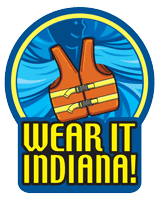 Indiana's streams offer many recreational opportunities, including canoeing and kayaking. Although paddling is enjoyed safely by thousands each year, water trails still present dangers that can result in injury or death. Drowning is the leading cause of death in paddling accidents. Wearing a Personal Floatation Device (PFD) can significantly decrease the chances of drowning. Below are some additional tips for having a safe and enjoyable paddling trip.
BEFORE YOU PADDLE
HAVE A PLAN
Familiarize yourself with the stream, including public access points and any dams on it, before your trip. Consider potential hazards and plan for them. Note landmarks. Have a map handy in case you must unexpectedly exit the river. Whenever possible, take a boat buddy. Know your experience levels. If paddling alone, before you go, tell someone your route and arrange approximate check-in times.
CHECK THE CONDITIONS
Never paddle on flooded streams. Strong currents and debris make them extremely dangerous. Check current water flow data and be aware of warnings. Check the weather forecast. Avoid paddling in extreme conditions.
KNOW THE RULES
Every paddler must have a wearable PFD in the boat at all times.
Use designated Public Access Sites.
BRING THE ESSENTIALS
Wear your PFD, appropriate clothing and footwear. Pack a first aid kit, phone, plenty of water, snacks, and sunblock. Consider putting some of these and any valuables in a waterproof container along with a change of clothes.
HAZARDS
CAPSIZING
NEAR SHORE: Hang on to the boat and swim to shore. Work with the current as much as possible. Do not try to stand in swift water. Your foot could get trapped in rocks or debris.
SWIFT WATER: Float on your back on the upstream side of the boat with feet pointed downstream until you reach calmer water. Stand and walk or swim to the shore.
OBSTACLES
Overhanging branches and limbs, flooded islands, logjams, and other obstacles can obstruct rivers. Avoid all types of these "strainers," especially in swift water. They can flip a boat or trap and drown a paddler.
LOW-HEAD DAMS
Never attempt to go over a low-head dam. Always carry your boat around them or paddle back upstream to your put-in site. Learn more about the dangers of low-head dams.