Destination Trails in Indiana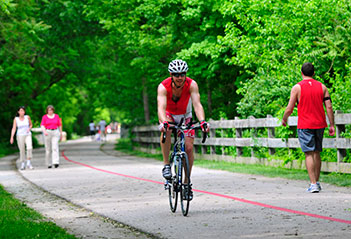 Destination trails offer a hard-surfaced multi-use trail for all to enjoy. From the banks of scenic rivers and rolling farm fields to quaint small towns and bustling cities, Indiana trails provide a variety of scenery to traverse. Regardless of setting, these public trails provide an opportunity to connect with nature through outdoor recreation, transportation, and fitness. In addition, many trails connect a number of regional natural and cultural attractions making them destinations. Visitors to these family-friendly destination trails can explore the many things Indiana has to offer by foot or bike as they enjoy a day full of fun and adventure!
Know Before You Go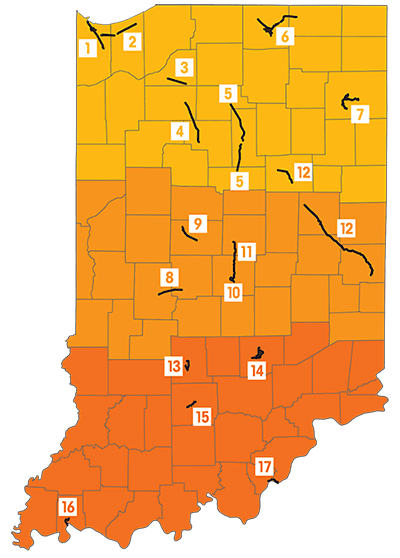 Where to Go
NORTHERN INDIANA TRAILS
1. Erie-Lackawanna Trail
17 miles
Paved
Hammond, Highland, Griffith, Schererville, Crown Point
2. Oak Savannah Trail & Prairie Duneland Trail
19.7 miles
Paved
Griffith, Hobart, Portage, Chesterton
3. North Judson Erie Trail
4. Panhandle Pathway
23 miles
Paved
Winamac, Star City, Thornhope, Royal Center, Kenneth
5. Nickel Plate Trail
44 miles
Paved
Rochester, Macy, Birmingham, Deedsville, Denver, Peru, Bunker Hill, Miami, Bennetts Switch, Cassville, Kokomo
6. Pumpkinvine Trail, Maple City Greenway & Maplehart Trail
22.75 miles
Paved, small crushed stone area
Elkhart, Dunlap, Goshen, Middlebury, Shipshewana
7. Rivergreenway Trail
25 miles
Paved
Fort Wayne, New Haven
CENTRAL INDIANA TRAILS
8. Vandalia Trail (part of National Road Heritage Trail)
11.6 miles
Crushed stone, natural surface, paved
Greencastle, Fillmore, Coatsville, Amo, Plainfield
9. Big 4 Trail
10 miles
Crushed stone
Thorntown, Lebanon
10. Indianapolis Cultural Trail
11. The Monon Trail
26.56 miles
Paved
Indianapolis, Carmel, Westfield
12. Cardinal Greenway
62 miles
Paved
Marion, Gas City, Jonesboro, Gaston, Muncie, Blountsville, Losantville, Economy, Williamsburg, Webster, Richmond
SOUTHERN INDIANA TRAILS
13. B-Line, Bloomington Rail Trail & Clear Creek Trail
7.5 miles
Paved, crushed stone
Bloomington
14. People Trail
27 miles
Paved, multi-use trail with bicycle route and sidewalk network
Columbus
15. Milwaukee Road Trail
10.81 miles
Crushed stone
Bedford
16. Pigeon Creek Greenway Passage
6.75 miles
Paved
Evansville
17. Ohio River Greenway
7.5 miles
Paved
New Albany, Clarksville, Jeffersonville
Big 4 Bridge connects Ohio River Greenway to the Riverwalk in Louisville, KY
Indiana Trail Finder: Discover all of Indiana's trails using this interactive map.