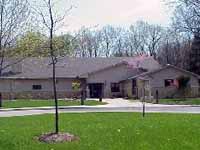 The Upper Wabash Interpretive Services staff provides programs and activities at Mississinewa Lake and Salamonie Lake.
The mission of the Upper Wabash Interpretive Services is to promote and illuminate our properties' unique natural, historical, and cultural resources using interpretive, recreational, and educational methods to build connections with our visitors and communities.
The headquarters for the staff is the Salamonie Interpretive and Nature Center. Turn off of State Road 105 into the Lost Bridge West Recreation Area, pass the gatehouse, and then take the next right.
Address:
3691 New Holland Road
Andrews, IN 46702
260-468-2127
Hours:
Winter: Nov. 1 - March 31
11 a.m. - 4 p.m., Wednesday - Monday
Closed Tuesday
Summer: April 1 - Oct. 31
11 a.m. to 5 p.m., daily
Activities:
Wildlife viewing area
Interactive reservoir exhibits
Natural & cultural history displays
Children's room
Salamonie Raptor Center - live birds of prey
The center also includes the Otter Run Tradin' Post. Browse through state park and Salamonie souvenirs, shirts and hats, field guides, books, maps, jewelry, photo albums, hiking sticks, and more. Children enjoy nature toys, arrowheads, geodes, binoculars, and insect nets. Cash, check, Visa, or MasterCard accepted.