Headquarters for Upper Wabash Interpretive Services (UWIS) programming for Mississinewa Lake and Salamonie Lake
3691 New Holland Road
Andrews, IN 46702
260-468-2127
Hours:
Open 7 days per week 11 a.m to 5 p.m. April 1 through Oct. 31.
Wednesday through Sunday 11 a.m. to 4 p.m. Nov. 1 through March 31. Closed Thanksgiving and Christmas Day.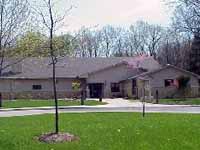 Wildlife Viewing Area
Live Animals
Interactive Reservoir Exhibits
Natural & Cultural History Displays
Children's Room
The UWIS provides interpretive programming for Mississinewa Lake and Salamonie Lake.