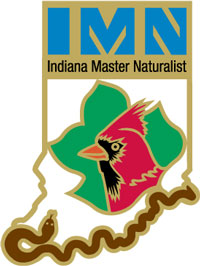 The Indiana Master Naturalist (IMN) program can provide you with many hands-on opportunities to learn about our Hoosier natural resources. It also provides a way for you to share that knowledge, along with your life experiences, through volunteer service. The program is sponsored by the Resource Conservation & Development Councils, Indiana Soil & Water Conservation Districts, Purdue Cooperative Extension Service, and the Indiana Department of Natural Resources.
Latest Quarterly Newsletter
Purpose
Provide an introduction to Hoosier natural resources through the eyes of resource professionals and experts in the field
Provide an educational opportunity to individuals 9 years or older
Provide an opportunity for class participants to establish a short or long-term partnership with a natural resources agency or a local organization involved in natural resource management by volunteering as part of the class
Provide a financially self-supporting program
Mission
The mission of the Indiana Master Naturalist program is to bring together natural resource specialists with adult learners to foster an understanding of Indiana's plants, water, soils, and wildlife, and promote natural resource volunteer service within the State of Indiana.
Who we are
The Indiana Master Naturalist program is governed by an advisory council with participation from the Indiana Department of Natural Resources, Purdue Cooperative Extension Service, Resource Conservation and Development Councils, Soil and Water Conservation Districts, City and/or County Park Departments, and Indiana Master Naturalist Alumni. The advisory council approves workshops offered, establishes program policies, and generally oversees the program statewide. The IMN funds are held and managed by the Indiana Natural Resource Foundation.
Sponsors
Advisory Council
Ginger Murphy, DNR Division of State Parks
Natalie Haley, Allen County Parks, and Recreation
Cookie Ferguson, IMN alumni
Mary Cutler, Naturalist, Tippecanoe County Parks
Phil Cox, Purdue Cooperative Extension Service, Vermillion County
Gina Anderson, Purdue Cooperative Extension Service, Floyd County
Brad Eisenhart, Waste Management of Indiana
Caitlin Stahl, Naturalist, Indianapolis Parks, and Recreation
Darci Zolman, Soil and Water Conservation District, Kosciusko County
Blair Beavers, Soil and Water Conservation District, Johnson County
Pardee Gunter, IMN alumni
Chuck Harvuot, IMN alumni
Elma Chapman, IMN alumni
Bill Spurlin, IMN alumni
Program Coordinator
Jody Heaston, IMN State Coordinator
Ouabache State Park
4930 E. State Road 201
Bluffton, IN 46714
463-203-6562
jheaston@dnr.IN.gov