Pokagon State Park's refrigerated Toboggan Run near Angola, Indiana, has about 90,000 riders every season. With the 30-foot tower and dips and valleys, the total vertical drop is 90 feet over the course of a quarter-mile. The top recorded speed is 42 mph. It's a 20-30 second thrill ride.
Hours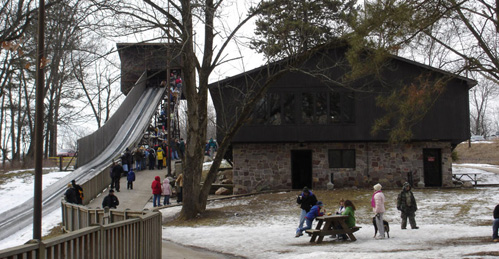 The run opens for the season on Nov. 24, 2023, at 10 a.m. It operates through Feb. 25, 2024.
Saturday: 10 a.m. - 5:30 p.m.
Sunday: 10 a.m. - 5:30 p.m.
The Toboggan has extended hours during winter break and is open New Year's Day, Martin Luther King, Jr. Day, and Presidents Day. View the holiday and break schedule.
Fees
Fees are subject to change without notice.
$20 per toboggan per hour (including tax). Toboggan Run gift certificates are available.
Park entrance fees: $7 in-state vehicles, $9 out-of-state vehicles, and $2 per person on a bus.
Cash, check, and Visa/MasterCard accepted.
A Driver's license or State-issued ID is required as a deposit and rents up to four toboggans.
No all-day rentals; no group reservations or group rates.
Sleds are rented on a first-come, first-served basis.
General

information
Gloves must be worn to ride the toboggan.
Refrigerated track (snow is not needed to operate).
Toboggan will close if the air temperature drops to 0 degrees F or below at the track.
Warming Center restrooms open, concessions available. No indoor gathering space is available.
No carry-in food to the Warming Center. Carry-in items are allowed in area outside the rental room. Picnic tables are available on a first-come, first-served basis. Tailgating is allowed. in the lower toboggan parking lot only.
Maximum four people per 4-person toboggan. Maximum of three people per 3-person toboggan (no exceptions).
Children must be able to understand and follow rules.
No cameras/video equipment on the ride.
Must use park's toboggans.
Need a place to stay or eat?
The Potawatomi Inn Resort and Conference Center is located near the run. It has 138 guest rooms, a restaurant, and a spacious banquet and conference center. Make reservations online or call 877-563-4371.
Cross-country ski and snowshoe rental
Located at the Warming Center when available. Includes skis, boots, and poles. Snowshoes are also available. The hours for these rentals are the same as the toboggan run hours.
Cost: $5 an hour for youth 15 years and younger, $8 an hour for adults.
Snowshoes: $10 an hour.
Toboggan Run facts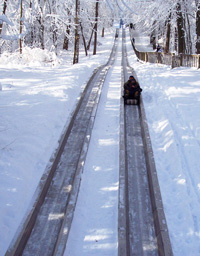 The slide got its start in 1935 when the Civilian Conservation Corps Company 556 built a wooden toboggan run for their own fun. The first run had a huge curve halfway down and then, near the inn, curved toward Lake James. The next year, the track was straightened to increase speed. In 1938, Company 556 erected a taller tower of about 20 feet. A second track was added in 1940.
In 1971, the slide became refrigerated. The design at that time now seems a little primitive compared to today. The old wooden tower and concrete began to deteriorate, and the current 30-foot tower and track were added in 1974.
In 1984, work started on renovating the two tracks. At the same time, a new rental and warming center were built. The new track did not reopen until Thanksgiving 1986. Additional work was done in 1998.