UPDATE: The ambassador bald eagle has been retired from educational programming on the glove and transferred to a home where she will be on permanent exhibit only. Our staff is currently searching for a new candidate to fill the role.
Patoka Lake has hosted captive raptors since January 1989. That year a bald eagle, designated as C52, was sent to live here. C52 was from the Tongass National Forest in Alaska. He was born in June 1988 and brought to Indiana by the U.S. Fish & Wildlife Service to reintroduce the species in the state. C52 died in 2009, but left a legacy of conservation education.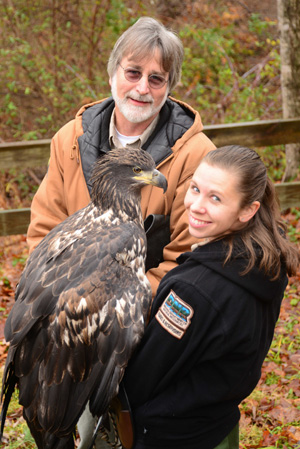 Since C52's arrival, the raptor area at the Nature Center has housed eagles, hawks, owls and even a turkey vulture.
The birds that reside under the staff's care were either born with a defect or have been injured and would be unable to survive in the wild. They travel throughout the state with their handlers to teach people about conservation and biology.
Visiting the raptors
The raptors can be viewed in their mews at the Nature Center. Frequently, indoor and outdoor special programs allow visitors to see the birds up close. Hours vary, so check the schedule before visiting. There is no admission except for the property gate fee. The birds have been trained to tolerate human behavior, but please be respectful around them.
Group visits and programs
We offer programs to schools, scouts, libraries, churches, clubs and at special events. Our staff and birds can travel to your group's location or you can visit for a close-up experience. We can modify our educational programs to fit your needs. Schedule in advance—our calendar fills quickly. Call 812-338-5589 for event openings and pricing.
The residents
These raptors are not pets. Out of respect for their wild capabilities, we do not name them. They are referred to instead by their species.
'Owl'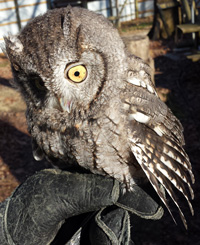 This Eastern screech owl was 4 months old when he collided with a semi truck in August 2011. The collision broke his elbow, leaving his right wing irreparable for flight. He also has scar tissue built up on his left eye that causes discoloration to the iris. That injury does not affect his sight. He became a resident at the center in November 2011.
'Eagle'
This bald eagle, whose nest collapsed from a tree when she was just 5 weeks old in June 2013, came from the Kenai National Wildlife Refuge in Alaska. The collapse brought down her entire family but left only her with injuries. She suffered severe breakage to the entire right wing near the elbow and to her radius and ulna. These damages left her unable to fly. She became a resident at the Nature Center in December 2013.
'Hawk'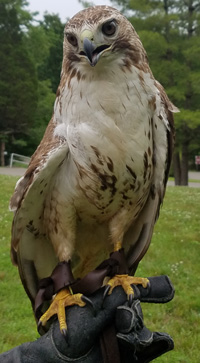 The male red-tailed hawk came from Hamilton County after he sustained a pellet wound to the right wing. He also has a pellet in the left wing tip and another in his head. He is unable to fly. The bird was about one year old when he was found. He has not developed his red tail feathers but will obtain those between his second and third years. He was rehabilitated at DNR's Hardy Lake Raptor Center before arriving at Patoka Lake for permanent housing.
Help rebuild the raptors' shelters
The raptor enclosures are 30 years old and need to be rehabilitated. Currently, the birds can only be seen in special viewing areas and on designated weekends, but plans are in place to build a new raptor center where the birds can be viewed by visitors during the raptor center's business hours. The new center would be accessible to all visitors and improve the educational impact of the birds. See Patoka Lake Raptor Center Illustration.
Make a donation online through the Indiana Natural Resources Foundation. Choose "Patoka Lake Raptor Shelter" in the dropdown menu or mail a check to:
Indiana Natural Resources Foundation
Attn: C52 Fund
402 W. Washington St. #W256
Indianapolis, IN 46204
Upcoming Patoka Lake Events