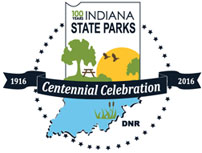 More than 10,000 people answered the Indiana State Park Second Century Survey. The online survey was conducted March - December 2017.
How Are We Responding to the Survey Results?
We have developed a new strategic plan. Learn more about our updated mission, vision and values.
We are making restroom improvements. We have replaced a number of wooden "pit toilets" with concrete vault toilets at Brown County. We have also replaced at least one of these toilets at Versailles, Whitewater Memorial and Ouabache. We have replaced an aging restroom at Whitewater Memorial's campground with a new modern one. We are replacing a flood-damaged restroom at Mississinewa Lake's Miami SRA Boat Ramp.
We are working toward providing training for our staff in maintaining sustainable trails.
We are making many small campground improvements across all of our state parks, ranging from upgrading sites to 50 amp service to repaving and leveling sites. Improvements vary by property.
We are currently renovating a facility at Whitewater Memorial to provide a year-round nature center experience for guests. We have added a full-time interpretive naturalist at Chain O'Lakes State Park.
Each state park inn now has a few pet friendly rooms because we know lots of people like to spend time in parks with their pets.
We are actively removing invasive species from our forests and lakes with working field crews on staff and through contracts with companies trained for that work.
We have added cabin suites at Brown County State Park, and the Centennial Cabin at McCormick's Creek State Park.
Results
SURVEY INFORMATION
Online at stateparks.IN.gov
Questions designed by state parks staff with assistance from DNR Division of Outdoor Recreation and Division of Communications
10,066 responses (most online; several hundred face-to-face)
Promoted and available from March – December 2017
HOW GUESTS ENTER STATE PARKS
Daily entrance: 48%
Annual pass: 39%
Golden Hoosier: 9%
Non-resident annual: 0.8%
HOW OFTEN OUR GUESTS VISIT
1-2 visits per year: 13%
3-5 visits per year: 26%
6-10 visits per year: 24%
10 or more visits per year: 34%
Don't visit: 1%
WHY THOSE WHO DON'T VISIT DON'T COME
Not close to a park: 22%
Gate fee costs: 26%
Visit city/county parks instead: 17%
SERVICES WE COULD OFFER TO ENCOURAGE GUESTS TO VISIT
Better marketing
Better accessibility (trails, views)
Discounts, cheaper fees
WHERE GUESTS GET THEIR NEWS
DNR website: 45%
Facebook/social media: 38%
Word of mouth: 27%
Camping website (camp.IN.gov): 18%
TOP 20 ACTIVITIES THOSE WHO VISIT PARTICIPATE IN MOST *
Hiking: 70%
Camping: 52%
Relaxing: 48%
Visit Nature Center: 30%
Picnicking: 22%
Wildlife watching: 22%
Run/walk for exercise: 22%
Fishing: 21%
Swimming: 21%
Stay at state park inn: 18%
Outdoor/wildlife photography: 15%
Geocaching: 15%
Nature/history programs: 13%
Eat at a state park inn: 12%
Birding: 11%
Stay in a cabin: 9%
Wildflower watching: 9%
Hard surface biking: 9%
Off-road cycling: 8%
Horseback riding: 7%
*Total participants ranking the activity 1,2,3,4 or 5/total survey participants on this question x 100
STAFF GRADES FOR SERVICE & HOSPITALITY
Parks:
Excellent (A): 55%
Good (B): 39%
Average (C): 6%
Fair (D): 0.75%
Worst Ever (F): 0.14%
Inns:
Excellent (A): 46%
Good (B): 43%
Average (C): 11%
Fair (D): 0.99%
Worst Ever (F): 0.19%
FACILITY RATINGS (A - Excellent; B - Good; C - Fair; D - Poor; F - Worst Ever)
Most facilities were rated A or B; items listed below were more frequently rated C/D than A/B:
Restrooms/showers
Picnic Shelters
Camp Stores
Interpretive signs
Playgrounds
Launching ramps and courtesy docks
Marinas
Group Camps
Canoe/Kayak rentals
HOW GUESTS CAMP
Tent: 51%
Motorhome: 32%
Pop-up Camper: 10%
VALUE FOR COST OF INDIANA STATE PARKS:
Value exceeds cost: 28%
Good value for cost: 61%
Limited value for cost: 10%
Not worth the cost: 1%
VALUE FOR COST OF INDIANA STATE PARK INNS
Value exceeds cost: 15%
Good value for cost: 62%
Limited value for the cost: 14%
Not worth the cost: 10%
RECOMMEND STATE PARKS TO OTHERS?
MOST IMPORTANT ROLES FOR DIVISION (in priority order)
Unwind, relax, escape
Conserve natural resources and Indiana's history
Enjoy and learn about nature
Provide a place for recreation
Provide cheap entertainment
GUEST PRIORITIES FOR THE FUTURE FOR WORK AND FUNDING
Percentage ranking each of these #1:
Maintain/improve hiking trails: 61%
Maintain existing park facilities: 42%
Encourage kids to use parks: 38%
Conserving natural resources: 35%
Improve restrooms/showers: 32%
Remove invasive species 26%
Upgrade campsites: 23%
Improve service/hospitality for visitors: 16%
Add more staff in general: 16%
Restore historic structures: 14%
Connect state parks with communities: 13%
Develop new facilities and services: 12%
Add security staff: 10%
Add more nature programming: 10%
Add more recreation programming: 10%
Add nature preserves: 10%
Add campsites: 9%
Acquire more land for state parks: 9%
Improve hunting/fishing opportunities: 9%
Recruit more volunteers: 9%
Improve accessibility: 9%
Inventory/restore natural resources: 9%
Add Wi-Fi: 8%
Encourage diverse audiences to visit: 8%
Maintain/add hard surface trails: 8%
Maintain/add off-road cycling trails: 8%
Improve inn rooms: 7%
Purchase land for new state parks: 7%
Build new inns: 5%
Add/improve beaches: 5%
Build more cabins: 4%
Upgrade cabins: 3%
Add/improve aquatic facilities: 3%
Maintain/add horse trails: 3%
Improve diversity in staff: 2%
Percentage ranking each of these #1 or #2 combined:
Maintain/improve hiking trails: 78%
Maintain existing park facilities: 75%
Conserving natural resources: 67%
Encourage kids to use parks: 57%
Improve restrooms/showers: 51%
Upgrade campsites: 45%
Remove invasive species: 43%
Connect state parks with communities: 40%
Improve service/hospitality for visitors: 33%
Maintain/add hard-surface trails: 28%
Add more staff in general: 28%
Restore historic structures: 28%
Recruit/add volunteers: 28%
Add more nature programming: 26%
Add campsites: 25%
Develop new facilities and services: 25%
Inventory/restore resources: 25%
Encourage diverse audiences: 24%
Add security staff: 22%
Improve accessibility: 24%
Add nature preserves: 24%
Add more recreation programming: 18%
Maintain/add off-road cycling trails:18%
Improve hunting/fishing opportunities: 17%
Add Wi-Fi: 16%
Expand parks: 16%
Add land for new state parks: 15%
Improve inn rooms: 13%
Add/improve beaches: 12%
Maintain/add horse trails: 11%
Upgrade cabins: 9%
Build new cabins: 9%
Build new inns: 9%
Add/improve aquatic facilities: 9%
Improve diversity in staff: 7%
Most common comments on what our priorities should be (associated with previous question):
Wi-fi
Cell service
Full hookups
More year-round programs
Naturalist in every park
More pet friendly places (off-leash parks, inn rooms, swimming)
Trash cans in picnic areas
More trail care/monitoring
More cabin/inn room availability
Archery ranges
More accessible trails and facilities
Disc golf
BUILDING STYLE PREFERENCES
Like stone and timber: 81%
Like more modern construction: 3%
Don't have an opinion: 16%
HOW WE COLLECT GATE FEES
PETS
Regularly bring pets when they visit: 23%
Occasionally bring pets when they visit: 19%
Have pets but do not bring them: 24%
Don't mind them in inns/campgrounds, but shouldn't be on trails: 11%
Pets should not be allowed in state parks: 6%
Other: 17%
SPENDING IN COMMUNITY WHEN VISITING
$1-$25: 12%
$25-$50: 33%
$50-$100: 30%
More than $100: 13%
Do not visit town: 12%