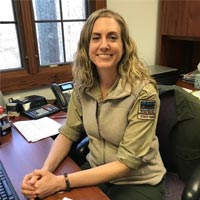 Conserve Indiana's resources for future generations.
Manage 36 properties with over 15 million visitors annually.
Interpret the natural and cultural history to educate and inspire visitors.
Collectively, Indiana State Parks and Inns include more than 2,000 buildings, 700 miles of trails, 636 hotel/lodge rooms, 17 marinas, 75 launching ramps, 17 swimming pools, 15 beaches, 7,701 campsites, more than 200 shelters, 160 or so playgrounds and 150 cabins.
It takes a team of hard working individuals to care for Indiana's assets. Some of these employment opportunities might be a good fit for you, today or in the future.
Full-time positions
Property manager
Assistant manager-recreation
Assistant manager - wildlife
Office manager
Interpretive naturalist
Maintenance
Security guard
Seasonal positions
Mowing crews
General laborers
Resource technicians
Housekeepers
Gate attendants
Lifeguards (take the test), beach attendants
Boat rental attendants
Concession clerks
Office clerks
Naturalist aides
State Park Inns and Lodges (view jobs)
General manager
Sales director
Restaurant staff - chefs, line cooks, servers
Front desk clerks
Housekeepers
Maintenance
Retail/ business development
Human resources
Food safety and sanitation
Other Administrative and Support Staff
Administrative assistants
Business analysts
Business services program managers
Reservation clerks
Interpretive manager
Natural resources manager
Cultural resources manager
Volunteer manager
Landscape planner
Why We Love It Here (And You Will Too!)
We work outdoors in beautiful places in Indiana.
We create life-long memory-making opportunities for park guests.
We play a role in protecting public lands for future generations.
We provide "Service, State Park Style!"