Chronic wasting disease (CWD) is a fatal neurological disease affecting white-tailed deer, mule deer, elk, and moose. It is a member of a group of diseases called transmissible spongiform encephalopathies (TSEs), or prion diseases. Other similar prion diseases in this group include mad cow disease and scrapie in sheep. CWD is spread through bodily fluids like feces, saliva, blood, or urine and is transmitted through direct contact or indirectly through environmental contamination of soil, plants, food, or water.
Although CWD is associated with captive deer and elk, it is also found in free-ranging white-tailed deer in several Midwestern states close to Indiana, including Michigan, Illinois, Ohio, and Wisconsin.
Indiana DNR staff collect tissue samples from wild deer year-round (hunter-harvested or reported sick/dead) to monitor the presence of CWD in Indiana. CWD has not been detected in deer tested from Indiana as of 2022.
Learn more about Indiana's CWD surveillance history in the annual Indiana White-tailed Deer Report.
2022-2023 CWD Surveillance
Hunters may drop off deer heads for testing at participating Fish & Wildlife areas (FWA) or state fish hatcheries (SFH) throughout the deer hunting season. For a complete list of locations and hours of operation, please view the interactive map and list of properties below. If you make an appointment during normal business hours, a biologist may collect the sample while you wait.
Test results will be posted online for individual hunters to access when laboratory tests are complete. The DNR requests voluntary assistance from hunters in this effort. Participants will receive a metal tag reminiscent of historic confirmation tags as tokens of appreciation.
No fee will be charged for CWD testing of deer through this program.
Sampling Locations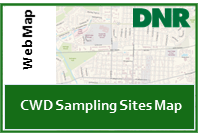 Partnering Businesses
DNR will contact processors and taxidermists to determine if they would be interested in participating in this CWD sampling effort. If your business would like to partner with DNR to collect CWD samples, please call 844-803-0002.
Taxidermist Incentive Program
The Indiana DNR and the National Deer Association have started a program to collect samples for CWD testing with the help of taxidermists. In 2022, a limited number of taxidermists from select counties will be asked to participate based on available funding and coverage in the targeted areas.
Participating taxidermists will collect the two retropharyngeal lymph nodes, which are found in the neck of white-tailed deer and provide the approximate age of the deer. The DNR will pay taxidermists $10 for each viable sample they collect. DNR will provide sampling supplies and training to all participating taxidermists. Taxidermists will use a provided sample datasheet with corresponding barcoded stickers to record the information that needs to be collected from the hunter.
Hunters will be able to look up the results of their deer's CWD test online three to four weeks after the samples are picked up. Hunters will also be sent a letter with their deer's results and a metal commemoration band as a thank you for participating.
For the 2022-23 deer season we will be targeting taxidermists in the following counties:
Allen
Clay
Crawford
Daviess
Elkhart
Green
Huntington
Kosciusko
Lawrence
Marshall
Martin
Monroe
Morgan
Orange
Owen
Putnam
Wabash
Whitley
If your county is not on the list, you can be placed on a waitlist in case there are extra spots. Every year, different counties will be included on the priority list.
For more information about the program or to participate, contact a DNR Fish & Wildlife health biologist in your region.
Carcass Transportation
Out-of-state deer hunters should follow carcass transportation regulations for their home state as well as carcass transportation regulations for the state in which they are hunting.
Import restrictions governing carcasses in Indiana
Human health
According to the Centers for Disease Control and Prevention, "there have been no reported cases of CWD infection in people. However, animal studies suggest CWD poses a risk to some types of non-human primates, like monkeys, that eat meat from CWD-infected animals."
The CDC further states that "These studies raise concerns that there may also be a risk to people. Since 1997, the World Health Organization has recommended that it is important to keep the agents of all known prion diseases from entering the human food chain."
Testing is not required in Indiana at this time, but in areas where CWD is known to be present, the CDC recommends that hunters strongly consider having deer and elk tested before eating the meat. The CDC recommends that you do not eat meat from an animal that tests positive for CWD.
For more information about precautions, you can take to decrease the risk of exposure to CWD, visit the CDC webpage.
For questions related to human health, you may also contact the Indiana State Department of Health at 317-233-1325.
More information
If you have any questions regarding CWD or other diseases in wild deer, contact the Indiana Department of Natural Resources, Division of Fish & Wildlife at 844-803-0002 or a DNR Fish & Wildlife health biologist in your region.
You can also find up to date CWD news on the Chronic Wasting Disease Alliance website.