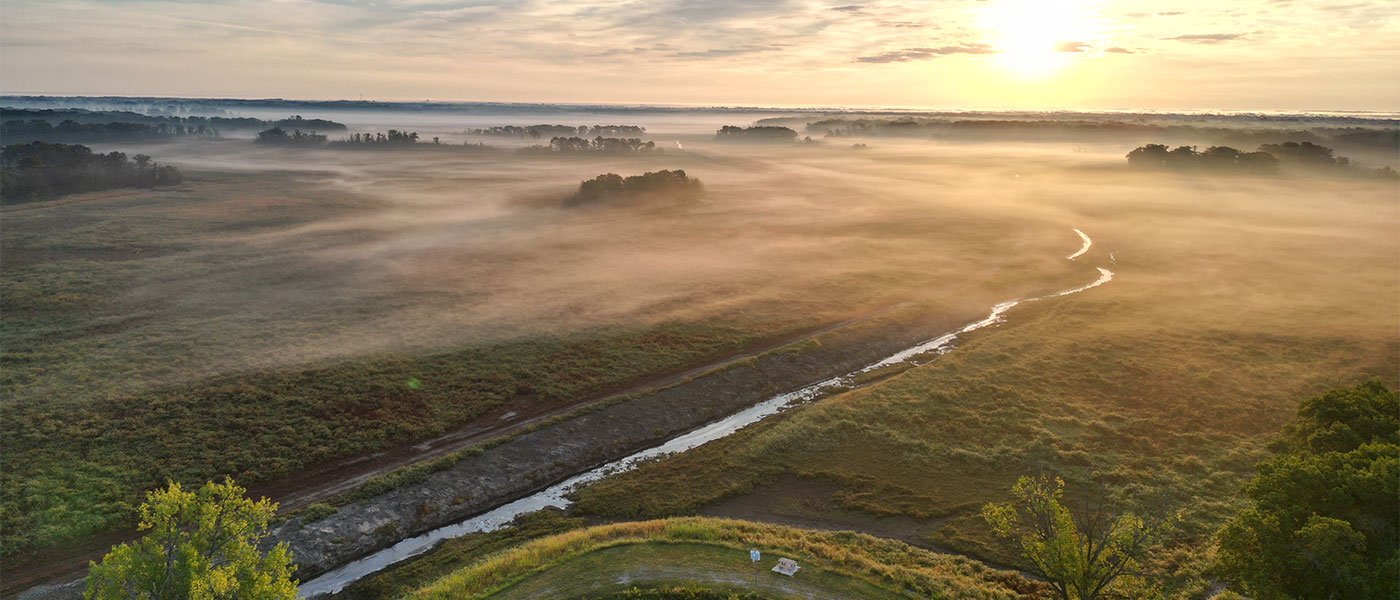 Sunrise over J.C. Murphey lakebed.
J.C. Murphey Lake is a reservoir that was created in 1951 to provide an area for migrating waterfowl to use. It is currently an excellent location for a variety of recreational activities, including hunting, fishing, trapping, and wildlife watching. But its fish and wildlife species and recreational opportunities are declining because of degrading habitat quality and rising populations of undesirable species. Therefore, J.C. Murphey Lake will undergo a renovation to improve lake conditions, habitat, and native wildlife populations.

The renovation began on March 21, 2022 with the removal of the water control structure boards. Once the water has fully drained out, the habitat work will begin. While the lake is being drained, anglers can use the fish collection baskets throughout the lake to assist in collecting fish for salvage. These fish will be restocked once the lake returns to full water level.
This page will be updated periodically to provide updates. For more current information, contact Willow Slough Fish & Wildlife Area at 219-285-2704.
Why is the lake undergoing renovations?
J.C. Murphey Lake is a constructed lake. A large portion of the lake is shallow, less than 3 feet in depth, and is a wetland-type habitat. Due to this wetland component, J.C. Murphey Lake will always require renovations to mimic the wet/dry cycles found in nature that provide optimum habitat for fish and wildlife species. Past renovations traditionally occurred about every 12 years. The last renovation was 19 years ago in 2003. That drawdown benefited roughly 20 species of greatest conservation need in Indiana along with a host of other species, including game species.
Since the last renovation, the habitat at J.C. Murphey Lake has declined. Habitat deteriorates naturally with stable water levels, but the two years of extreme weather/rainfall (2014-2015) accelerated the decline. Higher water does not allow wetland plants to grow, and many wildlife species depend on these plants for food and shelter. The spread of invasive plants and undesirable fish species, typically introduced by people and flooding, has led to degraded habitat and reduced fish productivity. Because of this, J. C. Murphey Lake is experiencing:
Decreased waterfowl hunting opportunities, due to declining waterfowl usage
Fewer muskrats, leading to fewer trapping opportunities and fewer muskrat mounds that other animals use for shelter or nests
Less desirable fish and smaller fish body sizes
Degrading habitat for secretive marsh birds or other species of greatest conservation need
What are the benefits of the renovations?
Renovations will be used to improve lake conditions, habitat, infrastructure, and attract native wildlife. These improvements include:
Increased opportunities for waterfowl hunters, anglers, and trappers
More wildlife viewing opportunities
Boat ramp, fishing piers, and aeration system maintenance and improvements
New or improved habitat for rare and endangered native wildlife
Timeline
2022

Remove fish from the lake and store in the waterfowl management units
Draw down the lake
Remove trash and clean up the lakebed
Treat invasive species
Reinforce the lake with new ditches and shoreline stabilization
Conduct habitat enhancement projects (see details below)

2023

Finish reinforcement and stabilization work
Continue invasive species control and removal of undesirable fish
Repair infrastructure, including boat ramps, piers, and dam controls
Finalize habitat enhancement projects
Begin to add water back into the lake (est. September 2023)
Stock fish from the hatchery system
Add fish back into the lake (est. October/November 2023)
Open the lake for some public use, including limited waterfowl hunting

2024

Return lake to full water level
More fish stocking from state hatcheries
Install floating docks and piers (est. Summer 2024)
Open the lake to boat fishing and other recreational activities
Monitor fish, wildlife, and habitat response to the renovation
Continue targeted treatments of invasive species
Habitat Enhancement Projects
Interested in helping?
Throughout the renovation, volunteers will be needed on multiple projects, including fish salvage, lakebed cleanup, fish structure construction, and more. To get on the notification list and sign up to help, email Mike Schoof at mschoof@dnr.IN.gov.