Urban areas are attractive places for geese because they prefer nicely groomed lawns adjacent to water. This preference, reduced predator rates, limited hunting, and feeding by residents result in waterfowl concerns in highly populated areas. Modification techniques that can be implemented to mitigate conflicts. It is also suggested that urban planners and building contractors design projects with these habitat modifications in mind. It is generally easier and more economical to implement goose mitigation techniques prior to building a site than to change an existing site.
Do Not Feed Wildlife
Feeding waterfowl is a popular practice for many people,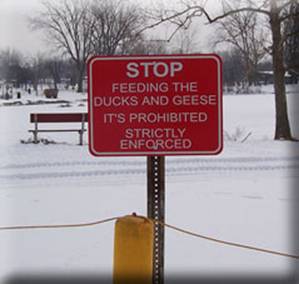 but it is also a major reason why geese are attracted to certain areas and remain there for long periods of time which can exacerbate Canada goose problems. It concentrates larger numbers of geese in areas that under normal conditions would only support a few.
Artificial feeding can also disrupt normal migration patterns and hold geese in areas longer than normal. With an abundant source of artificial food available, geese can devote more time to locating nesting sites and mating. Feeding waterfowl also increases the susceptibility to avian diseases, which have the potential to kill large numbers of geese and other waterfowl. Feeding waterfowl can make other forms of management ineffective. Finally, human food sources rarely provide proper nutrition for waterfowl and frequently do more harm than good.
Individuals and communities should consider adopting a "No Feeding Wildlife" policy. These policies are more successful if they are strictly enforced and if signage is posted showing clear consequences for feeding wildlife. Reducing food handouts by well-intentioned people should help make the area less attractive to waterfowl other wildlife.