Walleye (Sander vitreus) is a member of the perch family. Mostly olive or gold in color, they are found in several lakes, reservoirs and rivers in Indiana. Stocking of walleye in Indiana waters take place annually.
Indiana Walleye Waters
Bass Lake (Starke County)
Big Turkey (Steuben and LaGrange counties)
Brookville Lake (Franklin and Union counties)
Cagles Mill Lake (Putnam and Owen counties)
Clear Lake (Steuben County)
Crooked Lake (Steuben County)
Kokomo Reservoir (Howard County)
Lake Freeman (White and Carroll counties)
Lake George (Steuben County)
Lake Maxinkuckee (Marshall County)
Lake of the Woods, (Marshall County)
Lake Shafer (White County)
Little Turkey Lake (LaGrange County)
Loon Lake (Whitley County)
Mississinewa Reservoir (Wabash County)
Monroe Lake (Brown and Monroe counties)
Patoka Lake (Orange, Dubois and Crawford counties)
Pike Lake (Kosciusko County)
Prairie Creek Reservoir (Delaware County)
Pretty Lake (LaGrange County)
Shriner Lake (Whitley County)
St. Joseph River (St. Joseph County)
Summit Lake (Henry County)
Sylvan Lake (Noble County)
Wall Lake (LaGrange County)
Winona Lake (Kosciusko County)
Wolf Lake (Lake County)
Fisheries biologists have also developed quality walleye fishing in the tailwaters below dams at:
Cagle's Mill Reservoir
Lake Freeman
Lake Shafer
Mississinewa Reservoir
Monroe Lake
Salamonie Reservoir
Walleye Fishing Techniques
Walleye are fish-eaters, preferring deeper waters of lakes and large rivers, moving to shallow flats to feed during darker hours.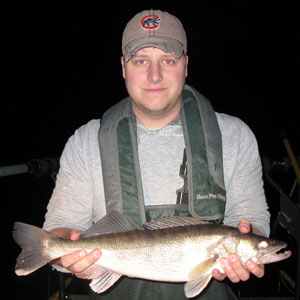 Lake or Reservoir Walleye Fishing
Fishing shad imitation or chartreuse colored crank baits along shorelines and points during low-light and dark hours, similar to bass fishing, can produce excellent walleye action.
Get your lure close to the bottom. You can get by with 6- to 8-lb test line, but many anglers prefer 10- to 12-lb test line.
Use crank baits to troll. Trolling is one of the best ways to cover large areas of water in search of walleyes. Since walleyes school together, you can generally catch several fish in the same area once you locate a group.
Use lead-head jigs, fished with or without bait, to work potential areas thoroughly.
The large, opaque eyes of a walleye are efficient at gathering light. They tend to retreat to deep, dark water during the day and move into shallower areas (5-10 ft.) to feed at night. Walleye tend to prefer rock or gravel bottoms, drop off areas and points. Standing timber areas in reservoirs can be a good place to fish for walleye in midsummer.
River and Tailwater Walleye Fishing
Crank baits and jigs with twister tails can be successful walleye lures in rivers.
A hook with a night crawler or minnow suspended below a float and drifted in the current can be productive.
Concentrate your efforts in slack water areas. Walleye will often feed right on the edge between slow water and swift current.
Walleye fishing in tailwaters depends greatly on the discharge from dams, but fishing can be excellent from March through May. When flows from the reservoirs are high, fish migrate upstream toward the dam. Some walleye are also flushed from the reservoir and hang below the dam. Reservoir tailwaters provide ample shore-fishing areas.
Walleye Research and Management
Walleye Management
Since walleye natural reproduction is limited in Indiana, the DNR stocks walleye or hybrid walleye fry and fingerlings in several lakes and one river.

The hybrid walleye is a cross between a female walleye and a male sauger, commonly called a saugeye. They hybrids are stocked in Sullivan Lake (Sullivan County), Huntingburg Lake (Dubois County), and Glenn Flint Lake (Putnam County), where they survive and grow better than the walleye, which prefers clearer and cooler waters. To allow this process to happen, each spring, Indiana fisheries biologists collect about 30 million walleye eggs from Brookville Lake. After the DNR fish hatch­eries work their science, these eggs result in about 17 million walleye fry; 1 million fingerlings, 1-2 inches in size; and 60,000 hybrid walleye fingerlings for stocking.
Walleye Research
The Indiana DNR studied the movements of walleye at Monroe Lake in 2008-09 using radio telemetry. A radio tag was surgically implanted in walleye. The DNR tracked the tagged fish throughout the entire lake. Find out more information about the tracking project at: