Overview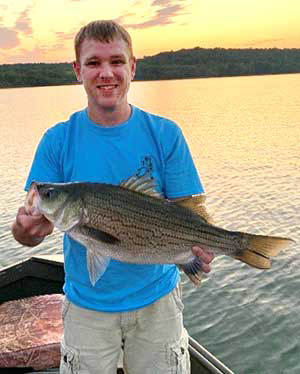 Hybrid Striped Bass caught at Monroe Lake. Striped Bass (Morone saxatilis) are an anadromous fish species native to the Atlantic and gulf coast regions of the United States from the St. Lawrence River south to Louisiana. The ability of Striped Bass to inhabit both fresh and saltwater allows for the establishment of landlocked populations via stocking programs. Striped Bass generally grow and survive best in waters that contain well oxygenated areas with temperatures below 75°F throughout the season.
Hybrid Striped Bass (sometimes called "wipers") are a cross between the freshwater White Bass (Morone chrysops) and Striped Bass. Hybrid Striped Bass are often produced by fisheries management agencies for stocking inland waters because the incorporation of White Bass genes provides the hybrids with a greater tolerance for warm water temperatures (up to 90°F). As a result, Hybrid Striped Bass fisheries can be created in lakes and streams where habitat would be unsuitable for Striped Bass.
Striped and Hybrid Striped Bass have been introduced into lakes and reservoirs in Indiana to diversify fishing opportunities and increase predation in waters with abundant populations of baitfish such as Gizzard Shad. As open water predators specialized to feed on schooling baitfish, Striped and Hybrid Striped Bass can help control baitfish numbers and create angling opportunities that would otherwise not be present. These fish also grow larger than native White Bass allowing them to consume baitfish that have grown too large for most native predatory fish. Striped Bass and Hybrids also make great table fare and are known to be strong fighters when hooked.
Striped Bass require long stretches (30+ miles) of free flowing streams to reproduce. In their native range, spawning streams generally have an abundance of turbulent flow and rocky or gravel substrate where the eggs can remain well oxygenated. These conditions are relatively uncommon in Indiana and, as a result, Striped Bass and Hybrid Striped Bass populations must be maintained through stocking programs. Hybrid Striped Bass also have reduced fertility relative to the parent species further limiting their reproduction. While spawning is generally unsuccessful in Indiana, these species will still attempt to spawn by traveling into any inflowing stream systems connected to the lake as the water approaches 55° F in the spring.

Striped Bass Caught at Brookville Reservoir. Fishing for Striped and Hybrid Striped Bass is best in the spring and fall when surface water temperatures are between 45° and 80° F. During these times of year, the fish can be found feeding in shallow water where they can be caught by boat and shore anglers with conventional baitfish imitating lures. In the fall, Hybrid Striped Bass can often be seen preying on baitfish at the surface in the early morning and evening hours. During warmer months, Striped Bass and Hybrids can be targeted by trolling baitfish imitating baits at cooler depths or by drifting live or cut baitfish at these depths. Best areas to target for Striped Bass fishing include windblown shorelines and bottom structures such as drop-offs, humps, or points that intersect with the cooler depths.
Striped and Hybrid Striped Bass waters in Indiana include stocked lakes and reservoirs, and large river systems including the Ohio, Wabash, White, and Tippecanoe (see map below). Popular tailwater fisheries also exist for Hybrid Striped Bass below Lakes Freeman and Shafer, as well as below Monroe Lake. These tailwater fisheries are maintained by congregations of fish that have escaped the reservoirs through the dams.
Regulations

| Species | Daily Bag Limit | Minimum Size |
| --- | --- | --- |
| Striped Bass | 2 | None |
| White Bass, Hybrid Striped Bass | 12 singly or in aggregate1, no more than 2 fish may exceed 17 inches | None |

Ohio River

| Species | Daily Bag Limit | Minimum Size |
| --- | --- | --- |
| Striped Bass, White Bass, Hybrid Striped Bass, Yellow Bass | 30 singly or in aggregate1, no more than 4 fish may exceed 15 inches | None |

1 Singly or in aggregate means that the daily bag limit includes any combination of the species.

Identification

Artwork by Rick Hill, Kentucky Department of Fish and Wildlife Resources.

Striped Bass

Tooth patches on back of tongue in two parallel patches, first stripe below lateral line complete to tail, stripes above lateral line are unbroken, stripes distinct, body slender and less than 1/3rd length.

Hybrid Striped Bass

Two tooth patches on back of tongue are joined or nearly so, first stripe below lateral line complete to tail, stripes above lateral line usually broken, stripes distinct, body deep and more than 1/3rd length.

White Bass

Single tooth patch on back of tongue, first stripe below lateral line not complete to tail, stripes faint, body deep and more than 1/3rd length.

Yellow Bass

No tooth patch on back of tongue, first stripe below lateral line not complete to tail. Stripes broken above anal fin, stripes usually distinct.

Striped and Hybrid Striped Bass Waters in Indiana

Lakes

Select link for report.

Shadyside Park Lake

Streams

Tippecanoe River
White River
Wabash River
Ohio River