Lake Michigan Fishing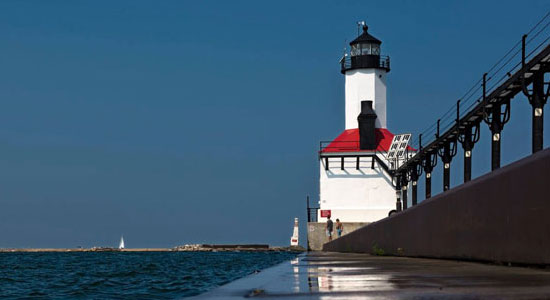 Fishing in Lake Michigan and tributaries
Indiana's share of Lake Michigan is the smallest of the four states bordering the lake. Indiana has 43 miles of Lake Michigan shoreline and 224 square miles of Lake Michigan water.
Use the interactive 'Where to Fish' map
Fishing reports are updated weekly.

Fishing Information
Fishing 101: Guides to Fishing Lake Michigan
Videos:
Fishing by season, Lake Michigan and its tributaries
Click on the links below to find out more detailed information on when to fish for certain species in Lake Michigan.
Winter fishing Lake Michigan
Spring Fishing in Lake Michigan
Summer fishing in Lake Michigan
Fall fishing in Lake Michigan
Stream fishing in Lake Michigan

Where to Fish on Lake Michigan
Lake Michigan Fishing
The Michigan City pier, basin, and adjoining ramp (owned by City of Michigan City), provide access for both shore and boat anglers.
Another municipal ramp is located upstream on Trail Creek (Trail Creek Marina).
A public fishing site for shoreline anglers exists next to the Michigan City DNR building (handicap accessible).
A public fishing site for shoreline anglers (handicap accessible) is available at the Port of Indiana. Various private marinas along Burns Waterway (State Road 249; Burns Ditch) provide boat launching facilities
Stream Fishing of Lake Michigan tributaries
Trail Creek has 10 public fishing sites; two are handicap accessible.
Public fishing sites include:
Site next to the DNR building; Hansen Park (E Street)
Winding Creek Cove (8th/Dickson Streets)
Fire Station #2 (2005 E. U.S. 12)
Robert Peo Public Access (Liberty Trail)
Karwick Nature Park (Karwick Road)
U.S. 35 (Chapala Parkway)
Trail Creek Forks (U.S. 20)
Johnson Road (Johnson/Wozniak Roads)
Creek Ridge Park (7943 W. County Road 400 North).
The DNR public access site and Creek Ridge Park are both handicap accessible.

The East Branch of the Little Calumet River and Salt Creek also provide public access for fishing opportunities.
Salt Creek runs through Imagination Glenn County Park and Haven Hollow Park, both offering angler-access.
Two state-managed public fishing sites are located on Salt Creek, the Chustak Public Fishing Area and Salt Creek Public Fishing Area, near Valparaiso.
Deer Creek Path, a public access site at Ameriplex Woods (State Road 249/Ameriplex Drive) and Burns Harbor Public Access (State Road 149/Navaho Drive) offer fishing opportunities on the East arm of the Little Calumet River.
Portions of the East Branch of the Little Calumet River flow through the Indiana Dunes National Lakeshore property, which the public can utilize. For more information about fishing on the Dunes National Lakeshore property, call (219) 926-7561 or visit www.nps.gov/indu/index.htm.
REMEMBER: The majority of Lake Michigan tributaries run through private property; permission from landowners is required to fish on these private lands.
Lake Michigan Fisheries Status and Management Reports