Each issue, Outdoor Indiana staff will select reader submitted photos to feature in the magazine. If you would like the chance to be featured, please submit your photo, along with your name and phone number to:
Please, only submit original photography that you have taken. Do not send files over 9 MB in size. JPG format is preferred.
September/October 2020
(Select image to enlarge it)
LARRY SELVIDGE
Knightstown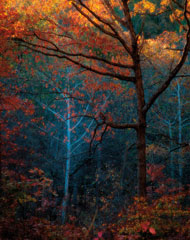 On an early October morning, Larry was hiking along Laughery Creek with Jane, his wife of 30 years, at Versailles State Park on Creekside Trail when they found this landscape. The couple loves to hike in their spare time. Jane finds interesting compositions for photos, and Larry takes the shots.
CRYSTAL BROWNE
Rochester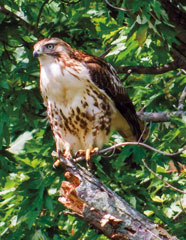 Crystal snapped this photo of a red-tailed hawk on a late September morning at Kankakee Fish & Wildlife Area. She was moving to another section of the area when she spotted the hawk in a tree overlooking the Yellow River. Browne is a physician biller for a local hospital.