Outdoor Indiana - November/December 2020 - Reader Photos
Each issue, Outdoor Indiana staff will select reader submitted photos to feature in the magazine. If you would like the chance to be featured, please submit your photo, along with your name and phone number to:
Please, only submit original photography that you have taken. Do not send files over 9 MB in size. JPG format is preferred.
November/December 2020
(Select image to enlarge it)
GARY MOTYCKA
Michigan City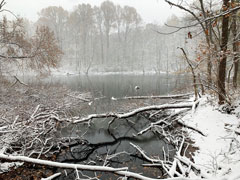 Gary was hiking the Upland Trail at Pinhook Bog within Indiana Dunes National Park and came upon this winter scene. He is a retired automotive and parks & recreation engineer who volunteers for the National Park Service. Gary has subscribed to Outdoor Indiana for 15 years.
NORMAN CLINE
Mt. Carmel, Ill.
Norman was in the Goose Pond Fish & Wildlife Area Visitor Center one afternoon when he noticed deer outside. Hustling out the door, he captured this shot with his Nikon D500. He has enjoyed photography since starting the hobby while serving in the military in Germany in 1961.