Each issue, Outdoor Indiana staff will select reader submitted photos to feature in the magazine. If you would like the chance to be featured, please submit your photo, along with your name and phone number to:
Please, only submit original photography that you have taken. Do not send files over 9 MB in size. JPG format is preferred.
March/April 2020
(Select image to enlarge it)
DENNY BECK
Fort Wayne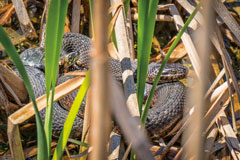 Denny was just trying for a photo of this common water snake when a painted turtle climbed aboard along a trail at Salomon Farm Park in Fort Wayne. He pursues photography as a retirement hobby. One of his goals was getting a shot in Outdoor Indiana. Mission accomplished.
BEAU SURFACE
Crawfordsville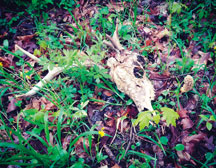 Beau took this just outside Crawfordsville while foraging for mushrooms during a wet early morning. The rain had just stopped when he noticed this deer skull next to a morel mushroom. An avid outdoorsman, Beau loves learning primitive survival skills and hiking Turkey Run State Park.