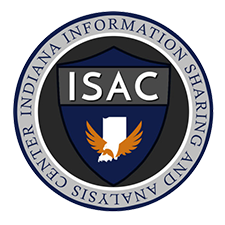 INCIDENT REPORTING
If you have experienced an incident, please report it here. This information will not trigger a response from the state of Indiana. If you need immediate assistance, please send an email to awareness@iot.in.gov. This form will allow the tracking of incidents on a statewide basis and provide general incident information to citizens and businesses.
SECURITY CONSULTING
The IN-ISAC offers high-level consulting at no cost to the organization. This consulting is intended to help those with limited or without cybersecurity knowledge or skills in-house, get their questions answered and their security programs started.
INCIDENT RESPONSE
The IN-ISAC is positioned to assist organizations struggling with incident response. The IN-ISAC is not staffed to send technicians on-site, but can assist with high-level troubleshooting and identifying the needed resources for the circumstances.
SOC
The IN-ISAC SOC handles Tier 1 duties for the Executive Branch of state government. The SOC is capable of a wide variety of services to other governmental organizations as well. These services can be tailored to the specific needs of an organization. The services provided may be chargeable, or may be provided at no cost, depending on their scope.
WEEKLY NEWSLETTERS AND BRIEFS
The IN-ISAC provides a weekly cybersecurity information brief. The publication looks to highlight current cybersecurity news and identify teachable moments in a light format. Cybersecurity is not always interesting and it is not always fun, but the brief is reliably both.
Sign-Up for Newsletters & Briefs
PURCHASING OPPORTUNITIES
The IN-ISAC looks to leverage the State of Indiana's economies of scale for the benefit of other organizations by setting up state contracts that can be used by other governmental organizations. An example is the State's training and awareness contract with Mediapro.
CYBERSECURITY SIMPLIFIED
Small Business – High Risk for Ransomware
CONTACT US
Email: Awareness@iot.IN.gov
Phone: 317-234-3434