"The health of our entire legal system—both state and federal—depends on having a competent and independent state judiciary... How we choose our state judges, and how we decide whether to keep them in office or not, is of critical importance."
—the Honorable Sandra Day O'Connor
Retired Associate Justice, Supreme Court of the United States
Judges up for Retention in 2022
The following judges will appear on the November 2022 ballot for retention.
See the State Bar Association's 2022 Judicial Retention Poll results
Court of Appeals of Indiana
Judge Paul D. Mathias
Court of Appeals of Indiana, Third District
Paul D. Mathias is a fifth-generation Hoosier who deeply believes that Indiana is a special place to live. He is honored to serve on the Court of Appeals, where he strives daily to reflect and protect Hoosier values within the law. He's handed down more than 3,000 opinions while serving on the appellate court, including 2,948 majority opinions and 74 dissenting opinions.
Judge Mathias first practiced law in Fort Wayne for six years, concentrating in construction law, personal injury, and appellate practice. He was appointed Referee of the Allen County Small Claims Court in 1985 and served as Judge of the Allen Superior Court from 1989-2000. In 2000, he was appointed to the Court of Appeals. He was retained by election in 2002 and 2012.... [keep reading]
Judge Nancy H. Vaidik
Court of Appeals of Indiana, Fifth District
Nancy H. Vaidik grew up in Portage, Indiana, and is a sixth-generation Hoosier. She graduated from Valparaiso University with high distinction in 1977 and Valparaiso University Law School in 1980. After serving as a prosecutor and trial-court judge in Porter County, Judge Vaidik was appointed to the Indiana Court of Appeals, where she served as Chief Judge for six years.
Judge Vaidik's early years as a deputy and then chief deputy prosecutor in Porter County provided the grounding for her judicial career. As an attorney, she tried over seventy-five jury trials and founded the Porter County Victims Assistance Unit, the Porter County Sexual Assault Recovery Project, the Domestic Violence Service, and the Valparaiso University Law School Mediation Clinic. She also served on the Porter County... [keep reading]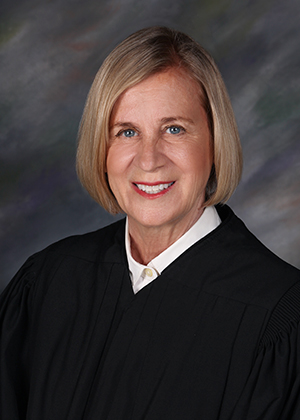 Judge Leanna K. Weissmann
Court of Appeals of Indiana, First District
Leanna K. Weissmann was appointed to the Court of Appeals by Governor Eric Holcomb and began her service on September 14, 2020.
Judge Weissmann graduated cum laude from Indiana University in 1991 with dual Bachelor of Arts degrees in Journalism and English. As an undergraduate, she received the Indiana University alumni scholarship and the Louis B. Edwards Award of Excellence in Journalism. She then earned her law degree from Indiana University Robert H. McKinney School of Law in 1994, graduating cum laude. From 1994-1995 she served as an appellate law clerk for Justice Robert D. Rucker (then judge for the Court of Appeals of Indiana).
Before joining the Court of Appeals, Judge Weissmann maintained a solo law practice in Lawrenceburg, Indiana for more than 20... [keep reading]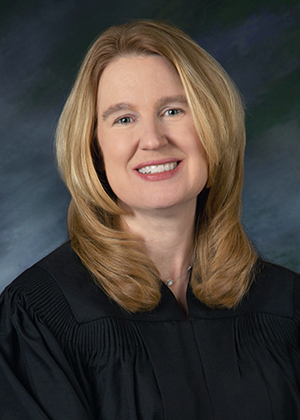 ---
About Judicial Retention
Learn more about Indiana's Judicial Retention System
Statutes regarding retention of Appellate Judges:
---
This information is prepared by the Indiana Office of Judicial Administration (IOJA). IOJA does not endorse the results of any surveys on judicial retention or the views expressed on any website outside the Indiana Judicial Branch website.