The following tutorials cover specific e-filing topics that take only minutes to learn. As new tutorials become available, they will be posted here. However, when you have technical questions about using your chosen e-filing provider software, you should seek help from your provider.
---
For help and tutorials specifically for e-filing protection orders, see E-filing Protection Orders.
E-filing generally
Creating accounts and managing attorney contact information
Fundamentals of e-service
Tutorials for courts and clerks
Infographics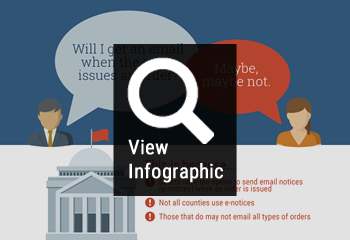 E-filing & Email: What to expect in your inbox.
This infographic [Text version] explains the difference between electronic service through the e-filing system and electronic notice through a court's case management system. When a court issues a document, that document and the email notice you receive do not go through the e-filing system, so the email address where you receive notice may not be the same one where you receive electronic service from another party.