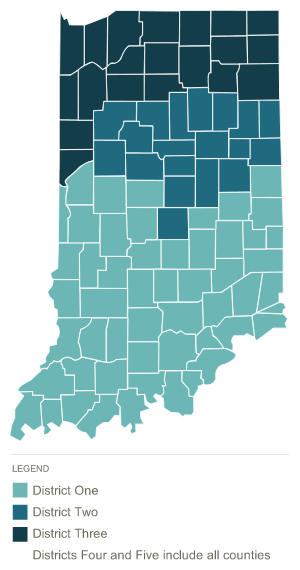 The 15 members of the Court of Appeals of Indiana represent five state districts:
Three members of the Court must come from the 1st District, encompassing the southern third of the state;
three from the 2nd District, the middle third; and
three from the 3rd District, the northern third of Indiana.
Judges named from these districts stand for retention only in their districts.
In 1978, a 4th District was created, consisting of three judges, one from each of the first three districts.
Likewise, in 1991, a 5th District was added, also with judges from each of the first three districts.
Judges representing the 4th and 5th districts stand for retention statewide.
Presiding Judges of each District for 2023:
1st District - Judge L. Mark Bailey
2nd District - Chief Judge Robert R. Altice, Jr.
3rd District - Judge Terry A. Crone
4th District - Judge Patricia A. Riley
5th District - Judge Margret G. Robb