---
Need to request a protection order?
Start a request for a protection order by filing online. See our tutorials to learn how to get started or reach out to an advocate for help.
---
Overview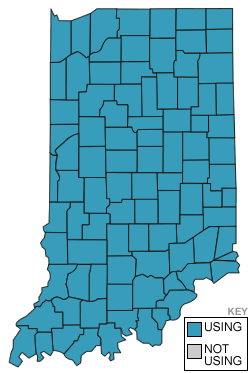 The Indiana Supreme Court partnered with the Indiana Criminal Justice Institute and State Police to receive two federal grants to create and implement the statewide Protection Order Registry (POR) which makes judicial orders available to local, state and national law enforcement agencies within minutes, all at no cost to counties.
Annually, far too many Hoosiers die as a result of domestic violence and tens of thousands of adults and children are forced to seek help from emergency shelter because it is not safe for them to stay at home. Protection Orders are a significant tool to help protect victims of domestic violence and their families, but court orders are ineffective unless the information reaches local and state law enforcement officers who need to enforce them.
The Indiana Protection Order Registry links Indiana courts issuing Protection and No-Contact Orders to the State Police's Indiana Data and Communication System (IDACS) and the FBI's National Crime Information Center (NCIC). Because orders are entered and available immediately, it:
Accelerates information-sharing by providing complete records in a timely fashion.
Ensures data accuracy and consistency.
Enhances state and national databanks.
Increases protection across state lines as well as within Indiana.
Reduces administrative work by local officers who currently re-type orders into IDACS.
Notifies victim that their order has been issued, served, and will expire in 60 days.
Addressing domestic violence is a complex issue, and the Protection Order Registry will significantly assist those at risk. Furthermore, the partnership between the Executive and Judicial branches of Indiana government demonstrates that state leaders are committed to protecting victims.
How it Works
When orders are issued, two things happen:
The Order is entered into the system and electronically shared with IDACS and NCIC within minutes, and
A notification of the Order is faxed or e-mailed to local law enforcement agencies where the parties live and work.
This ensures that all appropriate law enforcement agencies are immediately notified when a Protection or No-Contact Order is issued, modified or revoked.
Project Benefits
The Indiana Protection Order Registry significantly enhances the effectiveness of law enforcement officers as well as courts and clerks. The Registry:
Generates a state-approved order.
Automatically enters and deletes orders in IDACS as well as validates hit confirmations.
Minimizes data entry by maintaining both parties' information for future use.
Allows orders to be modified instead of recreated.
Allows authorized users to view the conditions of an order from any computer.
Allows law enforcement agencies to verify the existence of a valid order and service information immediately.
Allows petitioners to be notified when the order is issued, served and about to expire.
Allows orders to be printed with the Spanish translation included.
Allows judicial officers' electronic signatures to be attached to their orders and printed with their signatures.
Allows protection orders to be searched on-line by cause number or respondent/defendant name.
More Information
Search Protection Orders
Protection Order, No Contact Order and Workplace Violence Restraining Order Forms
Contact Information
For more information on the project contact Carl Cowan at 317-234-5994 (Fax: 317-234-2605) or carl.cowan@courts.in.gov.