Overview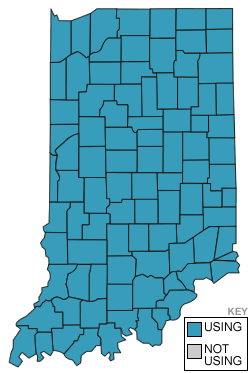 Trial Court Technology and the Indiana Bureau of Motor Vehicles (BMV) work together to help Indiana's trial courts and clerks meet federal rules requiring faster reporting of serious traffic violations by commercial drivers. The Federal Motor Carrier Safety Improvement Act required that these major offenses be reported within 30 days in 2007 and within 10 days by 2008.
In 1994, the Abstract of Court Record (SR16) took an average of more than 53 days to arrive at the BMV. Today, as a direct result of the project, the average time has dropped to 1-3 days. If Indiana did not meet the new reporting requirements, there was a good chance the state would lose $34 million a year in federal highway funds.
INcite (Indiana Court Information Technology Extranet) allows courts and clerks to transmit this data via the Internet. It is available to all Indiana counties at no cost.
In 2009, the BMV/INcite application was upgraded to allow the courts to electronically send the most serious types of convictions, suspension and disqualifications for Operating While Intoxicated (OWI) offenses, and Drug Violation involving a Vehicle. In addition, the "Search" feature of the SR16s, along with a "Save Draft" feature, were included in this upgrade.
More than $600,000 of the grant funds were used for courts and clerks in 70 of Indiana's 92 counties to upgrade their existing case management systems, train employees, and to purchase new computers, copiers and fax machines.
Before implementation of this system, most SR16s were sent to the BMV by mail. More than 10,000 paper forms were received by the BMV each week, requiring 20 full-time employees to enter the data into the BMV computer system. Since INcite's creation, processing time for SR16s has been cut by two-thirds, and the number of courts sending information electronically has increased from 30 when the project first began to 478 today!
Future Enhancements
Trial Court Technology was awarded additional grant funds from the U.S. Department of Transportation to continue efforts to allow for even more electronic reporting, increasing efficiency and enhancing the safety of our highways by identifying dangerous drivers.
This new work focused on allowing courts to transmit more serious traffic violations in real time and to electronically submit the; Probable Cause Affidavit (PCA) for Operating While Intoxicated;(OWI) offenses. This ensures that appropriate convictions, driving privilege suspensions and/or disqualifications get posted to the defendant's official driver record in a timely manner as mandated by state and federal law.
In addition, the Specialized Driving Privilege (SDP) Information for traffic cases can now be sent via the OWI PCA or the SR16 form for specific cases.
Options for Counties
Upgrade existing local case management systems to send data to the BMV electronically.

Use INcite to transmit data via the Internet. This option can be used by any court but is especially valuable to those that do not have an electronic system or those that have one but cannot afford upgrades.
The INcite application offers many advantages over the hard copy SR16 and OWI PCA:
Transfer data securely via authentication and encryption

Eliminate costs to print and mail or fax SR16s and OWI PCAs (courts still have the ability to print hard copy for local records)

Ensure SR16 and OWI PCA data integrity via validation from the web form

Process SR16s and OWI PCAs faster due to submission of data electronically

Reduce SR16 manual data entry at the BMV

Receive activity reports summarizing all data submitted

Create multiple SR16s for the same defendant with multiple offenses and multiple SR16s for different events

Decrease data entry time by pre-populating data from BMV

Correct and retransmit previously rejected SR16s

Decrease in time for resubmission of fixed SR16 and OWI PCA data that had problems upon initial submission

SR16 and OWI PCA can be modified before transmission

SR16s are processed nightly, so drivers can be reinstated the next day

Keeps a log history of SR16s and OWI PCAs
Improved Efficiency and Safety
To ensure the BMV receives the SR16 or OWI PCA form, some counties send in multiple copies of the same conviction SR16 or pre-conviction OWI PCA information by mailing or faxing. This duplicates effort for county staff and the BMV.
Others do not send in SR16s at the time of conviction but wait until after a grace period to receive a payment. This is not compliant with federal requirements and counties now know that convictions must be sent within 10 days of judgments being entered on cases.
Sending conviction and OWI PCA information via electronic transfer, mail or fax within 10 days brings Indiana into compliance and will ensure data on unsafe drivers is readily available, thus keeping our roadways safer for all Hoosiers.
How the Trial Court Technology-BMV Team Works
Trial Court Technology serves as intermediary between vendors and BMV, reviewing their test files to see if CATS (the BMV system) will accept them before they even send them in. Trial Court Technology provides Microsoft Word templates of the SR16 for those counties that are now filling them out by hand.
A daily BMV run is now scheduled, so SR16s and OWI PCAs sent before 6:00 p.m. (Eastern) will get processed each night and therefore on the record the following morning if applicable.
How to Get Started
Trial Court Technology staff are working closely with the BMV and will provide assistance. If you have questions or problems, contact us toll-free at (888) 275-5822 or Annette Page at annette.page@courts.in.gov or 317-234-3064. For technical support, contact David Steward at david.steward@courts.in.gov or 317-233-2778.
More Information