Talent Talk: September 2019
Brittany Young: Training for life beyond recovery
Published September 18, 2019 by Amber Robinson, Communications Coordinator for Indiana Office of Career Connections and Talent
---
Secretary Blair Milo talks with Brittany Young about her journey from addiction to sobriety.
Ask any industry leader to name Indiana's greatest resource, and they will likely give you the same answer – people. It always comes back to people. People are what make up the figurative heart of Indiana. They are the lifeblood of our communities and our workforce. Our family members, friends, and co-workers.
Brittany Young is one of these people. She's a daughter, an aunt and an ex-offender. But more notably, she's an inspiration. We've all made mistakes, and we all continue to learn life lessons from those mistakes. It's what makes us human. For Brittany, her mistake was bigger than most. And she paid a big price for it.
For five years, Brittany spent her time confined within the walls of Madison Correctional Facility in southern Indiana. During a tour of the facility, our team learned about a work-based learning program providing incarcerated individuals and ex-offenders with job readiness training and job placement assistance.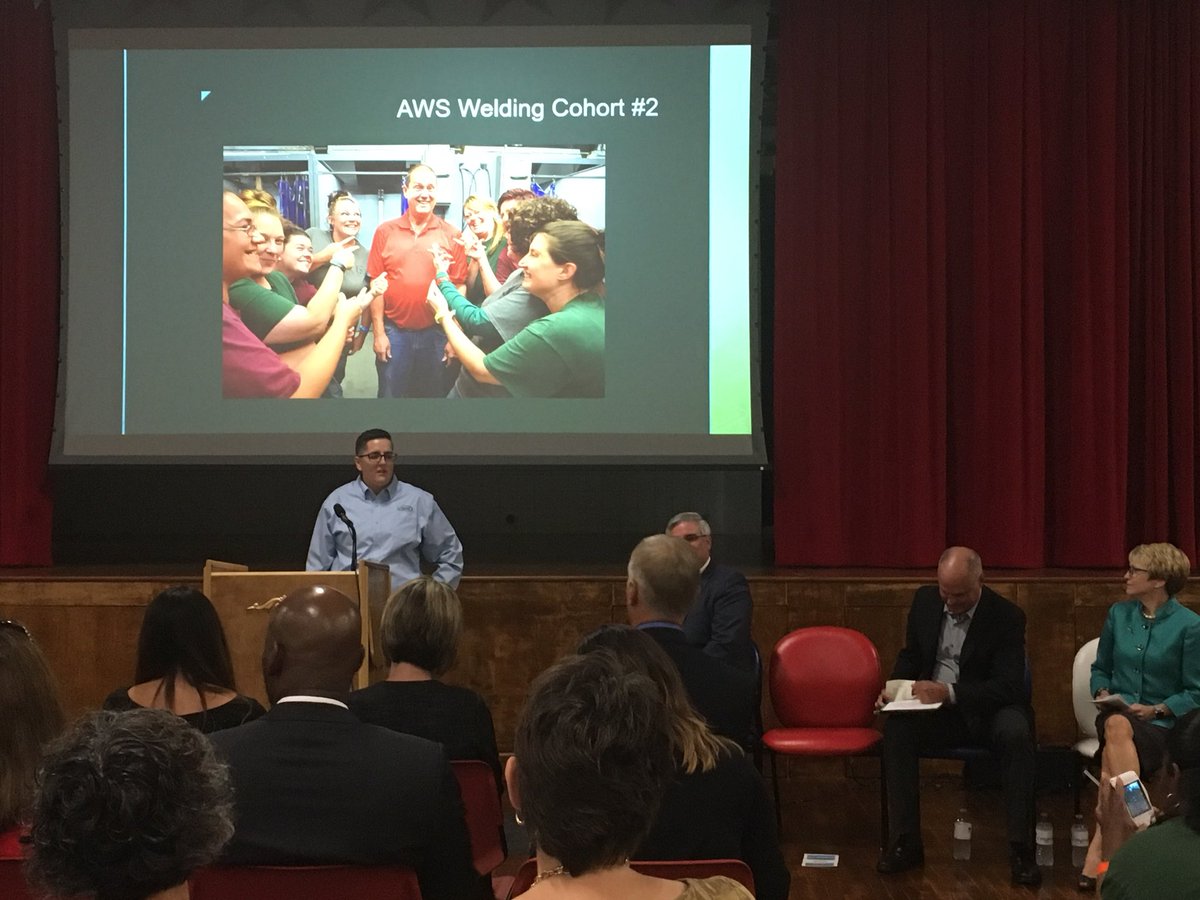 When we returned in August 2018, we had the honor of celebrating the more than 60 women who were graduating from this program, having earned industry-recognized certifications in either metalworking, welding or manufacturing. One of these exceptional women was Brittany Young.
As Brittany brought nearly the entire audience to tears with her commencement address, she noted a disappointing truth, "If I would have been released without these skills, I would have been back to drugs." And according to statistics, back in prison. But Brittany refused to be a statistic and made a conscious decision to change her life while serving her sentence.
One particular day, Brittany overheard Warden Jan Davis and Ivy Tech Community College leaders discussing the implementation of a new program to skill up Indiana inmates through training in high-skill, high-demand jobs. Brittany believed this program could be the first step toward building a better life, so she approached the warden and begged for her chance to participate.
"I knew I needed something different when I got out. I couldn't go back to the same thing I was doing before."
So Brittany took this opportunity, and she ran with it—fast and far. Not only did she earn her MSSC certificate as a production technician, she also earned her welding certificate and became OSHA-certified.
"Every hour extra I could get in that place, I did it. Every opportunity that the warden would let me go in there and… run back through everything and study again, that's what I did."
And Brittany's hard work paid off. Brittany began working for ModRoto (now Meese Inc.) in Madison. But after the company laid off its metals department, Brittany was determined to move forward with her new career, and applied for every job she could, including a production technician position at Vehicle Service Group.
Finally, after a month of silence, VSG, a prominent employer in Madison, reached out to Brittany.
Brittany was ecstatic about the idea of landing what she and other area residents consider 'the greatest job in Madison.' VSG pays well and offers good benefits, both of which were critical for Brittany to start her new life on the right foot upon release. Eager to begin working, Brittany called the company back and asked what time the correctional officer would need to pick her up for work.
A long pause lingered on the other end. The VSG employee was not aware Brittany was part of a work release program, and dread and panic flooded over Brittany as the woman responded, asking her to hold, so she could speak with her supervisor.
Brittany quickly interjected, saying "Let me tell you something before you go talk to your boss. Let me tell you that I will be on time every day—I have no choice."
Determined to dispel any misconceptions the woman may have held about her, Brittany continued, "I will try harder than anybody you're going to bring in here because I feel like I need to prove myself. I'm AWS-certified for welding. I'm certified through MSSC as a production technician. I have my 10-hour OSHA certification, and I will be the best employee. I will work ten times harder than anybody else."
And with that, Brittany was hired. She began earning a living wage using the skills she learned while incarcerated, and credits her successful re-entry to the leaders of Centerstone and Ivy Tech as well as Warden Davis.
Centerstone, an organization dedicated to providing mental health care, addiction treatment and community education, played an integral role as Brittany transitioned from inmate to parolee. As a condition of her parole, Brittany was required to wear an ankle monitor. At the time, she only had one pair of work boots, which did not accommodate the new addition. Luckily, Centerstone was able to provide Brittany with a different pair of boots she could wear to work.
Inspired by her experience and the support she has received throughout her journey, Brittany celebrated the completion of her parole by participating in the Second Annual Walk for Hope in Anderson, Indiana, an addiction awareness campaign organized by Ryan Troub. Brittany is familiar with the struggles of addiction, and has become a huge proponent for mental health, understanding that people do not necessarily want to turn to drugs but often do as a lack of mental health support.
As an advocate for addiction recovery, Brittany is planning to organize a similar event in Madison to help spread the message that recovery is possible. And she has no plans of stopping there. Ultimately, Brittany wants to work at the state level either helping combat addiction or helping inmates through the difficult transition out of prison.
In the meantime, Brittany continues writing the next chapter of her life, literally. She was recently presented with the opportunity to write a book about her incredible journey, which will appear in correctional facilities and adult education centers across the nation.
Sharing her story with others is just one way Brittany is inspiring those around her. Governor Holcomb has been incredibly moved by her courage and dedication to making a better life for herself. Not only did he invite her to the 2019 State of the State address as his special guest, a night Brittany describes as "the best night of [her] life," he even called to congratulate her on completing parole during the Walk for Hope.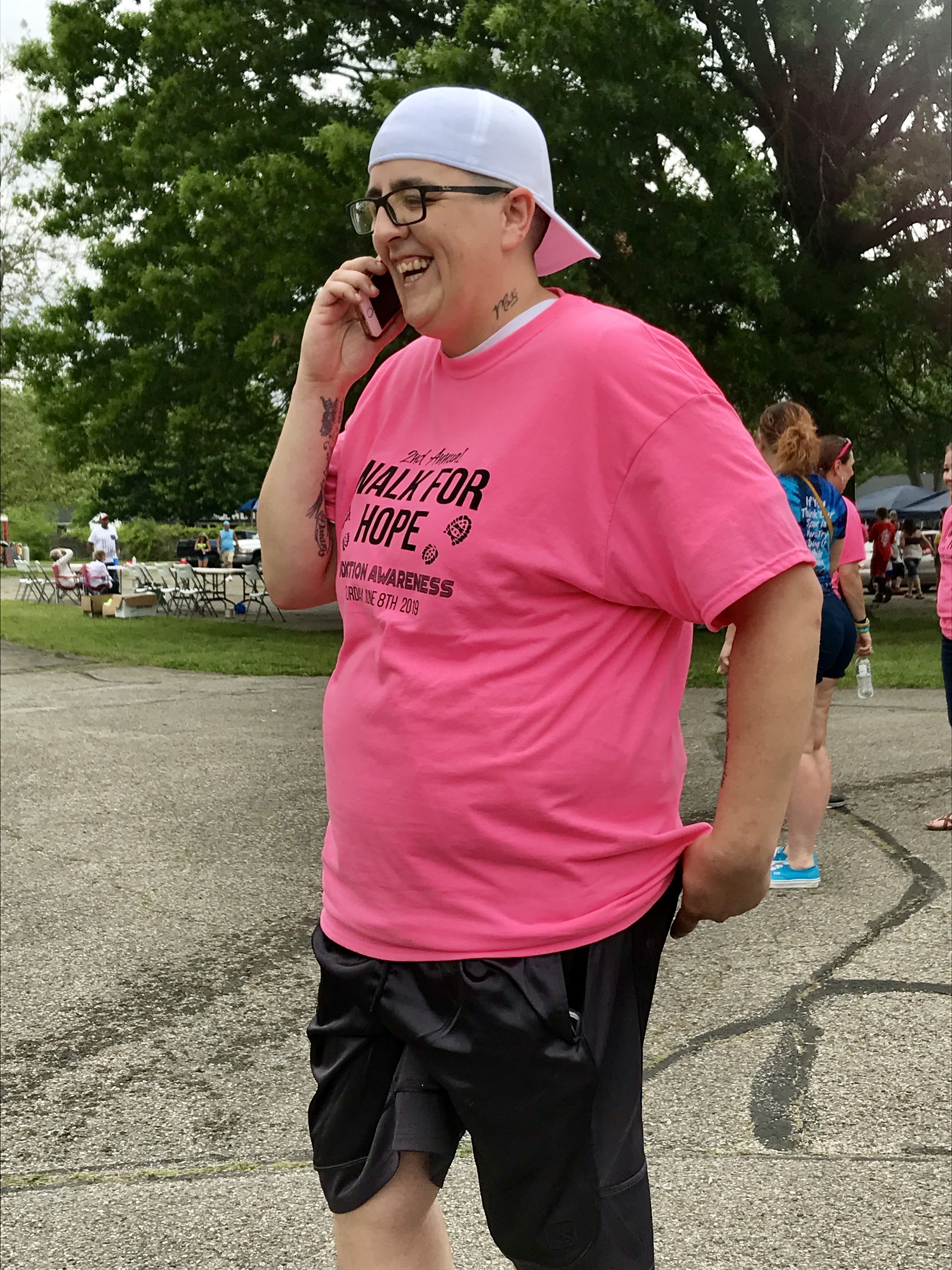 Walking alongside Brittany were her 13-year-old nephew Aidan and adopted dog Benford. Currently, Brittany takes care of Aidan, serving as his guardian. But Aidan also serves as a guardian for Brittany, in a different sense of the word. "He is my biggest accountability partner. I will never go back out and use again because his eyes are watching me every day."
Brittany's next step in life is not as an ex-offender but as a guardian, role model, and soon-to-be homeowner. What defines Brittany are neither her past, nor her mistakes. It's her perseverance, her ambition, her heart.
People are Indiana's greatest resource, which is why Indiana must break down barriers that often disqualify someone from being given the opportunity to improve themselves, such as lack of education, past drug offenses, or a criminal record.
"There's a hunger for education in prisons. There's a hunger for something different." And work-based learning programs are this 'something different,' something that allows people like Brittany to re-join communities with the skills necessary to be successful in life and our 21st Century workforce.
Bringing Indiana to the Next Level means making life better for all Hoosiers, including those who have made mistakes, and these programs offer opportunities for ex-offenders to learn employable and transferrable skills and live better, more productive lives. It gives hope to those seeking change in a place where hope is not easy to find, and it provides Indiana employers with an excellent opportunity to connect with highly motivated and well-trained talent.
Since interviewing Brittany, she has been keeping busy as the full-time guardian for her nephew and making some exciting career changes. Brittany is now working as a millwright apprentice and pursuing her associate's degree. Because of her previous training, she was able to begin the program as a third-year apprentice and is expected to have her degree completed within the next year!
For employers interested in partnering with HIRE to offer work-based learning opportunities, please visit https://www.indianacareerready.com/hire or indicate your interest in an email to hire@dwd.in.gov.
If you're in need of addiction, recovery, or mental health services, please visit https://www.in.gov/fssa/dmha/3025.htm.