Talent Talk: October 2019
The Manufacturing Truth: Vibrant Industry, Rewarding Careers
Published October 23, 2019 by Allegion Shipping Supervisor Brandon Krieg
October is National Manufacturing Month – and manufacturers across the country (including in Indiana) celebrated National Manufacturing Day on Friday, Oct. 4. Allegion is among our state's manufacturers that host local students and community leaders annually to showcase a modern manufacturing environment, with the ultimate goal of inspiring the next generation of manufacturers.
While it's true that a healthy manufacturing industry positively impacts our economy – particularly in a state known for its manufacturing backbone, like Indiana – it's also true that there are negative perceptions about what it's like to work in manufacturing. We want to change that.
I'm lucky to have been given early exposure to opportunities in manufacturing. My dad was a production manager at a manufacturing company, and before heading to college, I took a summer job as a quality inspector where he worked. While I didn't have the expectation that I'd want a career in manufacturing, the technology and innovation I saw happening there definitely interested me.
I went on to Purdue University and pursued a degree in organizational leadership, knowing then I wanted to return to a manufacturing environment. While there, I took a second manufacturing job, working within a company's supply chain as an intern in the shipping and inventory department. It was still a manufacturing job, but it was a new role with new learning opportunities. Still today, I've found that you can always learn new skills in manufacturing environments. In fact, after I finished up at Purdue, I worked in a manufacturing development program for an employer that allowed me to experiment in cost estimating, purchasing, marketing design and production leadership.
Having multiple manufacturing experiences at that point, I realized that being in a production environment was most energizing to me. That's when I found Allegion and became excited about the idea of making products that have purpose – in Allegion's case, to help keep people safe. At work in manufacturing, there's satisfaction in reaching your production goals at the end of the day – seeing the tangible products and solutions you've built that can make a difference in people's lives.
As a team leader on a production line where we built emergency exit devices, I had the opportunity to start at Allegion with responsibility for 15 people. In this role, I learned that building comradery at work, much like in sports, is a natural path to success. Actually, it was surprising to me just how much of what we did depended on teamwork. Going to work just to punch in and punch out didn't feel right. Going to work to embrace a common goal, celebrate wins, problem solve and make improvements together – that made all the difference.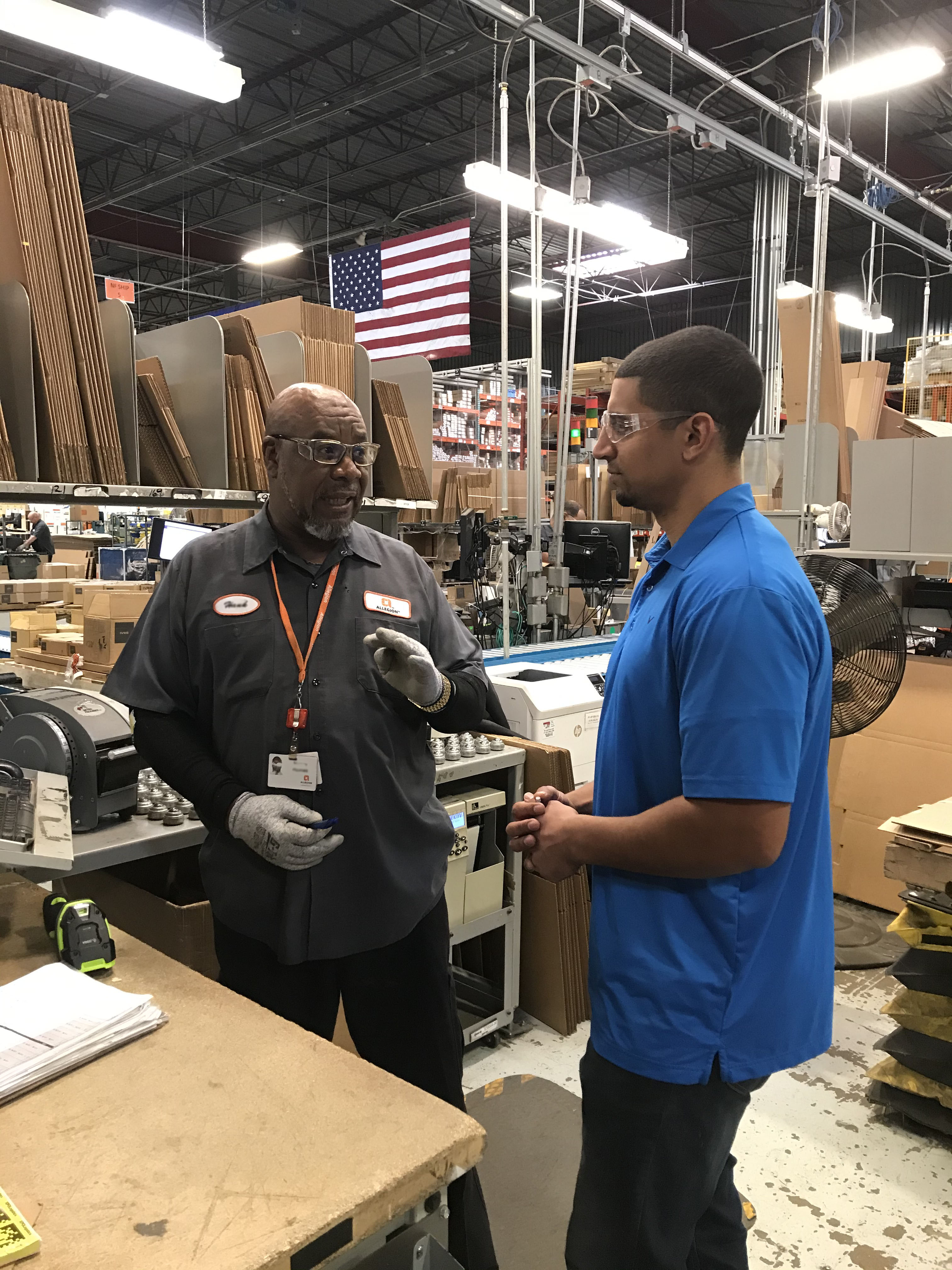 Today, I've carried my experiences over to a new role as shipping supervisor at one of our Indianapolis manufacturing facilities. While I enjoy production planning and assembly, I'm getting exposure to a different side of the business – shipping and materials. The learning opportunities are continuous, and every day is different. That's something many don't understand: careers in manufacturing (even assembly) don't simply mean you do the same thing every day. Sure, you do have some routine. But, there are always different goals, different adjustments to be made, different problems to be solved. The typical day is simply not typical.
Honestly, it's hard to imagine working in another industry. There's innovation in manufacturing. Today, many new technologies like robotics, the Internet of Things and Artificial Intelligence are making an impact. There's growth and continuous learning. There are many opportunities – and many paths to get here, be it a high school diploma, college, work experiences or some sort of mixture of these. There are employers, like Allegion, who offer tuition reimbursement programs to encourage professional development. But there are other exciting ways to progress your career, too. Think technical certificates. Think apprenticeship programs. Or just trying new things.
The truth is, manufacturing in Indiana and across the U.S. is vibrant. Manufacturing careers, and all of the opportunities that come with them, are rewarding.
--
Brandon Krieg is a shipping supervisor at Allegion, a manufacturer of security products and solutions that employs 1,200+ in Indiana and 11,000+ around the globe. Look for Allegion internships and careers in manufacturing at allegion.com/careers.