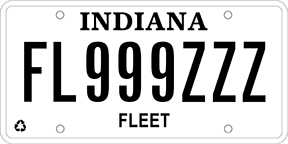 To qualify for participation in the fleet vehicle registration program, the fleet operator must be an Indiana resident who owns or leases 1,000 or more passenger motor vehicles or trucks with a declared gross weight of not more than 11,000 pounds.
Application Requirements
The Application for Fleet Vehicle Registration must indicate all Federal Identification Numbers (FINs) to which the fleet vehicles will be titled and registered, and the address and county affiliated with each FIN. A vehicle registered under an FIN not listed or in a county not indicated on the application will not be included for participation in the fleet vehicle program.
The fleet operator may declare on the application a preferred registration expiration month for the fleet vehicle registrations. The BMV shall decide the day of expiration within the approved expiration month. The BMV reserves the right to:
Designate an expiration month differing from the preferred expiration month requested by the operator; or
Deny the application if it does not contain a preferred expiration month.
The BMV will assign a unique fleet number to each approved fleet operator.
If, at any time, the number of fleet vehicles falls under 1,000, the fleet operator will be removed from the fleet vehicle registration program. The fleet operator may reapply for participation in the fleet program.
A fleet operator who meets the fleet program requirements may submit an application for fleet vehicle registration to the BMV. The application may be emailed to BMVTitlesAndReg@bmv.in.gov or mailed to:
Bureau of Motor Vehicles
100 N. Senate Ave. N483
Indianapolis, IN 46204.
Download the Application for Fleet Vehicle Registration – State Form 55894
License Plate and Registration Information
Each fleet vehicle will be issued a fleet license plate. The unique fleet operator number will be printed at the bottom of the plate, and the month and day of expiration will be printed in the top left hand corner.
The fleet vehicle registration expires annually on the assigned expiration month and day. The year of expiration does not print on the fleet license plate. However, the full expiration date, including year, is printed on each vehicle's Certificate of Registration.
Do Your License Plate Stickers and Frames Comply?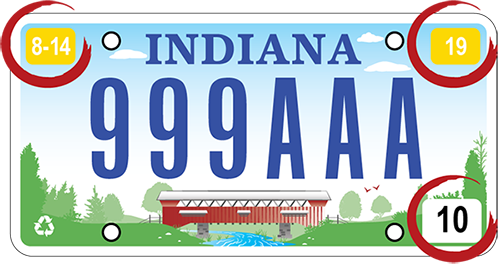 Make sure your license plate properly displays the registration stickers, and is not obscured by your license plate frame.
Learn More About the Required Placement of Stickers and Frames