Main Content
You may plate a vehicle that is at least 25 years old with an antique license plate (Year of Manufacture license plate) that was issued by the Indiana BMV in the model year of the vehicle.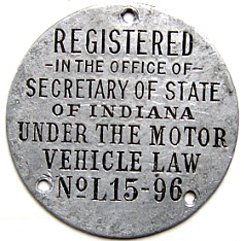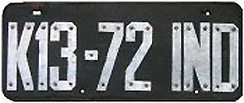 pre-1913
From 1905 to 1912, the Indiana General Assembly charged $1 to register a vehicle and gave each automobile owner a two-inch diameter brass or aluminum circular seal with a number printed on it. This was hung from the vehicle's dashboard. The owner was allowed to make an identifying placard out of leather, tin, wood or other materials to be displayed on the rear of the vehicle.
1913
Background: Yellow and black
Letters: Black and yellow
In 1913, Indiana issued its first license plate. The plate measured a generous 4.5" x 14.5" and is the only Indiana plate to have a porcelain finish on a heavy metal base.
1914
Background: Dark blue
Letters: White
Number issued: 66,410

1915
Background: Pink
Letters: Green
Number issued: 96,615
1916
Background: White
Letters: Black
Number issued: 139,117
In 1916, the warden of the Indiana State Prison suggested to the governor that prisoners be allowed to make Indiana's license plates. This arrangement did not occur, however, until 1930 when the prison was instructed to install machinery and establish the price of the license plates.

1917
Background: Black
Letters: Yellow
Number issued: 192,195

1918
Background: Green
Letters: Black
Number issued: 227,170

1919
Background: Black
Letters: White
Number issued: 277,255
Some license plate images presented with the assistance of the Jacob A. Newkirk Historic License Plate Collection.