Main Content
Article
Special Machinery Plates
The cost to purchase a special machinery license plate only includes a registration fee.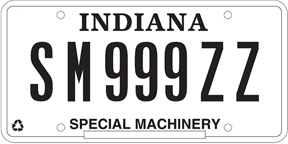 Special machinery means a vehicle:
Designed and used to perform a specific function unrelated to transporting people or property on a highway;
With permanently mounted machinery or equipment used to perform operations unrelated to transportation on a highway; and
Incapable of, or would require substantial modification to be capable of, carrying a load.
Special machinery is registered and plated.
Special machinery plates can be ordered at any BMV branch or within any full or partial service provider. You will receive the plate in the mail within 14 days.
License Plate Stickers and Frames
Your plate should have stickers showing the day, month and year of your next registration renewal, and the county in which your vehicle is registered. Indiana law prohibits license plate frames or covers that obscure stickers, text, or numbers on your plate.