Article
Section
Moonshiners and Bootleggers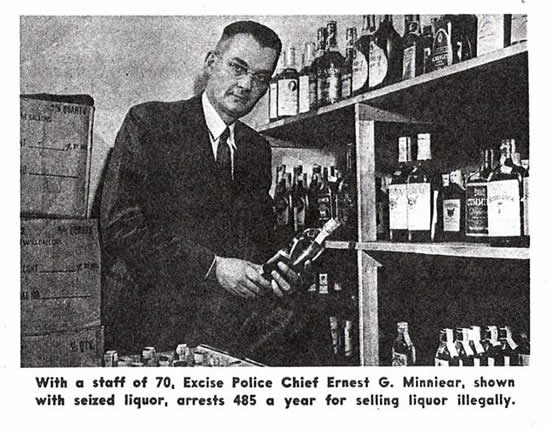 With the war over, officers turned their attention back to the old problem of bootlegging. In 1947, Chief Ernest Minniear's seventy officers arrested 485 people for illegal sales of alcohol and investigated a whopping 3,368 bootlegging complaints. Officers also received a new responsibility, enforcement of the state's cigarette tax law.
In March of 1948, Lt. Charles Miller of the Lafayette District estimated that his officers investigated an average of thirty bootlegging complaints each month. One recent complaint investigation entailed over sixty man hours of surveillance before officers successfully arrested the bootlegger who had been operating out of his house.
Bootleggers generally fell into one of two camps.
The "beer flat" was usually an after-hours joint where beer was offered at about a nickel a bottle more than licensed premises. Often the owners employed "runners" who would visit local taverns near closing time to steer customers to the bootlegger's place, where they could continue drinking. These flats usually could be found in the run-down residential areas of larger Indiana cities.
The second type of bootlegger was the hip pocket operator, who hung out around pool halls and unlicensed restaurants where they would sell anything from a single shot of liquor on up to entire bottles from strategically place stockpiles.
In the game of cat-and-mouse between officer and violator, many bootleggers made it a habit to attend the trials of their colleagues, where they could get a front-row view of the undercover officers who were testifying in open court. To help combat this tactic, officers were frequently transferred from district to district.
In April of 1955 Chief Charles Miller established a special detail to combat moonshiners in the Evansville area. "These guys are flooding the market down there and are making it rough on the legitimate tavern owners" Miller told reporters. The group's first arrest was thirty-six year old Wilfred Helfrick. Officers were waiting for Helfrick along the route he used for his weekly Friday trip from Kentucky. Helfrick led officers on a 110 mile-an-hour chase before crashing his new 1955 Oldsmobile. Thirty-five gallons of Kentucky moonshine were confiscated. Moonshine was flowing both ways across the Ohio River, however. Kentucky officials traced recently seized moonshine back to a still in southwestern Indiana's Dubois County.