Public Access During the Pandemic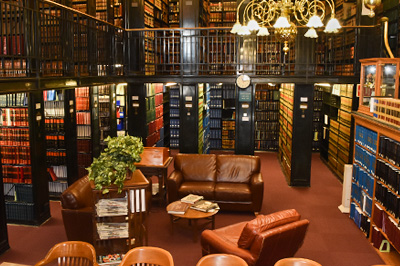 Due to social distancing requirements to slow the spread of COVID-19 and continued improvements underway, the law library is open by appointment only.
The law library appointment hours are Monday through Friday from 9:00am – 3:00pm. Requests must be made 24 business hours in advance. Up to 6 guests will be allowed in the library at a time. Visits are limited to 2 hours with 1 appointment per day. Face masks are required for entry, and all social distancing and safety procedures are to be followed. No exceptions will be made unless a request has been made to and approved by the Court's ADA Coordinator.
Library staff will make efforts to accommodate all requests, but there is no guarantee the requested time will be available.
Additionally, you can view the collection online and request a limited log-in to conduct online legal research. The public is encouraged to take advantage of the remote opportunities.
Court staff are not allowed to conduct research or give legal advice. Visit Indiana Legal Help.
When in the Law Library:
Your mask must completely cover your nose and mouth and be worn at all times
Stay behind the marked line on the carpet and do not place any personal items on the Reference/Circulation desk
Place all books you touch on the bottom shelf of the marked quarantine cart
Sanitize your hands if handling library materials, using the computers, or making photocopies
---
Supreme Court Law Library
The Supreme Court Law Library originated with an 1867 Act of the Indiana legislature which gave custody of the law books then in the State Library to the Supreme Court.
The primary mission of the Supreme Court Law Library is to support the research needs of the judges, staff and agencies of the Supreme Court and the Court of Appeals. The Supreme Court Law Library also serves as the primary law library for many state agencies, the Office of the Governor, the legislature, members of the private bar, and the citizens of Indiana.
The Law Library contains a comprehensive collection of legal materials and is a repository for publications produced under grants from the State Justice Institute. These publications are made available to Judges throughout the state.
Library Location
Supreme Court Law Library
State House, Room 316
200 W. Washington Street
Indianapolis, IN 46204
Pho: 317-232-2557
---
Federal Depository Library
Free access to U.S. Government information (Title 44, Section 1911). Library staff members are ready to assist you.
---
Related Information from Other Branches of Government
Constitution and Laws
Indiana Attorney General Opinions