Library Services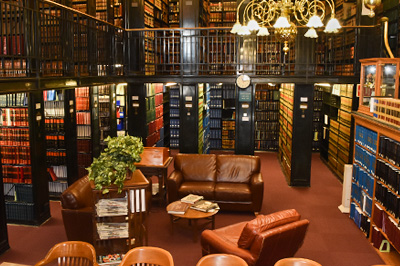 The Supreme Court Law Library originated with an 1867 Act of the Indiana legislature, which gave custody of the law books—then in the State Library—to the Supreme Court. Today, the Indiana Supreme Court Law Library is a special collection research library for the Court.
As a courtesy, the library offers a tool for the public to conduct their own research without going to the library in person:
Complimentary remote access to the LexisNexis Digital Library
A collection of eBooks with more than 50 publications of full-text, searchable, digital versions of Burns Indiana Statutes Annotated, practice guides, and other titles such as Indiana Model Civil Jury Instructions and Indiana Trial Evidence Manual.
The Supreme Court also offers a suite of online public access services at public.courts.in.gov that provide court information as well as tools for requesting protection orders, paying fees, calculating child support, applying for a marriage license, and much more.
It is open to the public for historical tours through the State House Tour Office on Fridays from 9:00 a.m. – 3:00 p.m. (Eastern), excluding state holidays. Law library in-person visits are by appointment only.