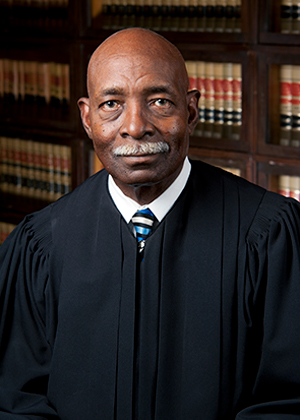 (One hundred fifth Justice)
Robert D. Rucker was appointed to the Indiana Supreme Court by Governor Frank O'Bannon in 1999.
Born in Canton, Georgia, Justice Rucker grew up in Gary, Indiana, and is a veteran of the Vietnam War.
He is a graduate of Indiana University (B.A. 1974) and Valparaiso University School of Law (J.D. 1976). In 1998, he earned a Master of Laws degree in the judicial process from the University of Virginia Law School.
Prior to his appointment to the Indiana Supreme Court, Justice Rucker served as a Judge on the Indiana Court of Appeals, having been appointed to that position in 1991 by Governor Evan Bayh. While on the Court of Appeals, Justice Rucker served as vice-chair of the Indiana Commission for Continuing Legal Education. As a lawyer, Justice Rucker served on the board of directors of the Indiana Trial Lawyers Association and on the board of directors of the Northwest Indiana Legal Services Organization. He also served as a deputy prosecuting attorney for Lake County, City Attorney for the City of Gary, and engaged in the general practice of law in East Chicago.
Justice Rucker is a member of the American Bar Association, the Indiana Judges Association, the Indiana State Bar Association, the Marion County Bar Association, the James C. Kimbrough Bar Association and is a Fellow of the Indianapolis Bar Foundation. Justice Rucker also served as the 2009-2010 Chair of the Judicial Council of the National Bar Association.
Since leaving the Court, Rucker has served as a senior judge in the Indiana Court of Appeals.
Justice Rucker and his wife Dr. Denise Rucker are the proud grandparents of seventeen grandchildren.
---