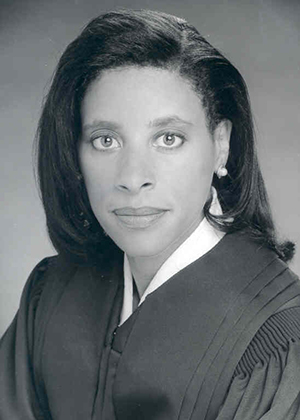 (One hundred third Justice)
Justice Selby was born July 1, 1955, in Bay City, Michigan.
She received a B.A. from Kalamazoo College, with honors, in 1977, and a J.D. from the University of Michigan in 1980. She practiced law in Washington, D.C. from 1980 to 1983.474 She specialized in health law in her practice at the Indianapolis law firm of Ice Miller Donadio & Ryan, and was Health Policy Director under Governor Evan Bayh.475 In 1995, she was appointed as a Justice of the Indiana Supreme Court to replace retiring Justice Givan. She represents several firsts for the Indiana Supreme Court. She is the first woman and the first African-American to serve on this court. The former quality required construction of a women's restroom for the Indiana Supreme Court.476 She was also the first African-American partner in a major Indianapolis law firm, Ice Miller Donadio & Ryan.477 In her words, "It is always an achievement for there to be a first . . . the barriers can be broken down only when people feel comfortable with things they are unaccustomed to. The first is probably the least enviable position, but it is very important."478 She hopes that "there will one day be no such thing as a first."479
---
474. WHO'S WHO OF AMERICAN WOMEN 971 (Marquis 20th ed., 1997).
475. Id.
476. Justice Myra Selby Takes Low-key Approach to High-profile Position, RES GESTAE, Feb.
1995, at 13, 13.
477. Id.
478. Suzanne McBride, Female Justice Marks Another First, INDIANAPOLIS NEWS, Feb. 3,
1995, at A2.
479. Id.
Source: Browning, Minde C., Richard Humphrey, and Bruce Kleinschmidt. "Biographical Sketches of Indiana Supreme Court Justices." Indiana Law Review: Vol. 30, No. 1, 1997. View this source in PDF format.