Community Survey Results Available
Summarized results of this summer's Clermont Community Survey are available. The town council will be evaluating the results to help guide decision-making. Thank you to all who participated!
Preserving Clermont History
Many Clermont residents have lived in or around town for decades, and they can attest to the fact that much has changed, even in the last 5, 10, and 20 years! Many new residents are unaware of what life in Clermont was like even a few years ago, and some have been asking about the history of their older homes or buildings in town. If you have photos that show events, schools, streets, houses, churches, shops, farms, and life in general from in and around Clermont--even from the early 2000s--your town councilor Mike Beam would be happy to scan your photos, and preserve them as part of an ongoing Clermont history project. Currently, Mike fields historical questions from residents and relies on newspaper articles he can find, library reference documents, or the scattered stories and photos across social media. But your own local photos, family memoirs, postcards, and other historical items would be even more helpful! Contact Mike at ClermontMikeBeam@gmail.com if you have photos or another item to share (it's OK if the photos include people!).
Robey Park Advisory Board
If you would like to learn more about the Robey Park Advisory Board and how you or your group can help at the park, e-mail RobeyParkBoard@gmail.com or contact it through the group's Facebook page.
Thank You
Thank you Clermont residents for your continued help keeping our town clean by picking up litter. Other town councilors and people in our area notice and appreciate your good work. Please keep it up! Your example of service may encourage others to do the same, and preventing the accumulation of litter and debris along our roads and in our neighborhoods and business areas is vital in making Clermont an attractive place to live and do business.
"One of the strongest contributors to littering is the prevalence of existing litter. Consistently in our results, we find that litter begets litter. Individuals are much more likely to litter in littered environments (as seen in the observational studies), and they are less likely to report littering in beautified environments (from the telephone survey). These findings strongly support the need for ongoing clean-up and beautification efforts. ... Posting litter prevention messages or signs in already-littered.
Warning About Tree Topping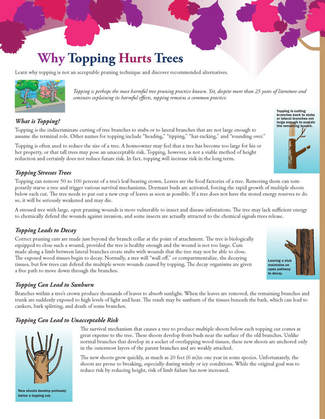 Due to the number of trees in the Clermont area being "topped", residents and property owners should be made aware this is a practice that is highly discouraged by tree care experts. There are a number of reasons this is so, including weakened trees and premature tree death. Before hiring an arborist, please arm yourself with knowledge and do not allow your trees, which are of great value in our community, to be topped. Insist that the workers who prune your trees are certified to help ensure your trees are being cared for properly.
Articles Explaining Tree Topping
Tips for Hiring Arborists