Main Content
Article
Fast friends
DCS office bonds, gets healthy with 'fun runs' and 5Ks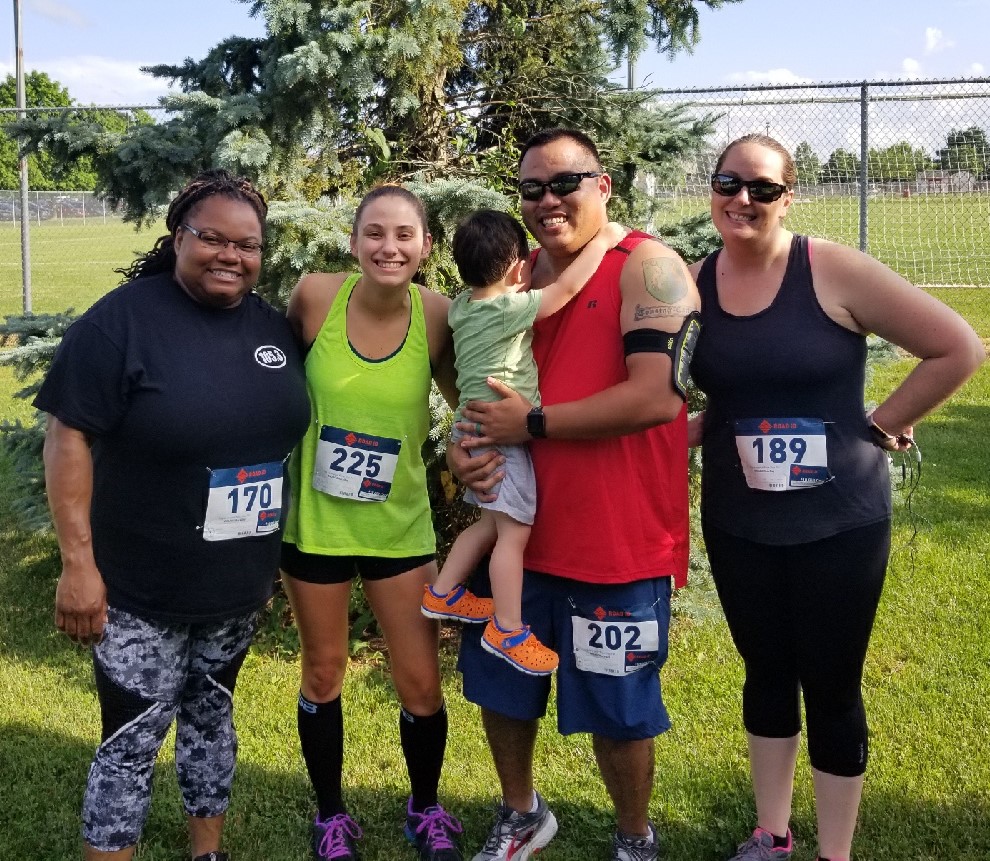 Maryah Silver, Joe Tonsing-Carter and Lynette Huhn had no idea they were starting something special when they participated in a Run the State Series 5K in July 2017.
Eighteen races, marathons, 5Ks and 'fun runs' later, the DCS Region 5 crew has become the very definition of "squad goals," forming close friendships outside the office and supporting one another as they work on achieving their individual fitness milestones.
Squad Goals! Pictured right: Indiana Department of Child Services Region 5 employees Ellissa Willis, Maryah Silver, Joe Tonsing-Carter and Melissa Haywood are part of a group of more than 20 DCS workers who've spent the last year competing in walks and runs.
The workers are so committed, in fact, that the region might have to be renamed "5K."
There are now more than 20 members of the office actively engaged in outside-of-work health initiatives, and that number is growing by the day.
One year after first hitting the trails at Prophetstown State Park, the group has joined numerous races and similar events throughout the state. Through that process they've gained a new measure of friendship and camaraderie, often helping out a long list of charitable causes along the way.
Not bad for an activity that started, essentially, on a whim.
Getting started
Huhn, a DCS relative support specialist (Foster Care Unit), said the genesis of the effort stemmed from agreeing with Silver to sign up for the July 2017 5K. From there, the group only grew in number.
"Then it just became a thing," she said. "Through Facebook we find other runs/walks that sound fun, and get a group together and sign-up."
Laura Tibbets, a regional foster care specialist supervisor, is one of those who caught wind of the program, and it didn't take long for her to decide she wanted to be part of the fun.
"I heard people in the office talking about doing races and I decided I wanted to get back into doing 5Ks," she recalled.
In the meantime, a well-received region-wide softball game attracted even more "recruits" to the ever-expanding running group.
One of those new additions was human services consultant Melissa Haywood, who served as a "cheerleader" during a 2017 softball tournament. But this year she stepped out of the stands and onto the playing field. Clearly comfortable on the diamond, one of Haywood's favorite events was a kickball game she hopes will become a regular occurrence.
"I would love to see the organized sport events continue, especially if we can get more interest in kickball and have a real tournament," Haywood said. "I think our region is doing great at getting the employees active and involved."
Forming friendships, getting healthy
That assessment is shared by other office personnel who feel the DCS colleagues have grown closer together and established stronger working and interpersonal relationships. The byproduct has been friendships that extend beyond the cubicle and a connectedness that can only be seen as a strength in a demanding line of work that, at its core, is all about helping children and families.
The Region 5 group is doing its part to assist those kids and their caregivers, but they're also helping others in need simply by signing up for the extracurricular activities.
"Not only does this promote healthy living, but most of the runs benefit a good cause such as cancer research, Heartford House Child Advocacy Center, Human Trafficking Prevention, Right Steps, Food Finders and many more," said Silver, a family case manager.
It goes without saying that feeling better – and getting healthy – is another happy offshoot. For most of those involved, the positive health impact has been readily apparent, and for some, the regular physical activity has helped them take control of their personal wellness in the face of potentially serious health issues.
Ellisa Willis is a prime example.
The collaborative care case manager for DCS Regions 1, 2 and 5 was previously diagnosed with Type II diabetes. At first, she didn't take the situation all that seriously, but about two years ago she decided she needed to work with a doctor to stabilize her sugar consumption and lose weight.
Unfortunately, in spite of her best intentions, Willis' more health-conscious efforts didn't last.
"I had relapsed, gained all the weight I had lost plus more, and struggled with maintaining my sugar levels," she said.
Willis again took action, this time by walking with a friend from her church. She began to see positive changes and, with the encouragement of Tonsing-Carter and others, this time managed to stick to it.
Willis signed-up for additional run/walks and recently lost 10 pounds. She's also got a better handle on her glucose levels. If attitude truly is everything, Willis appears well on her way to reaching her health goals.
Likewise, Tonsing-Carter's outlook is every bit as sunny as Willis', and similarly, his less-successful attempts to be more health-conscious were the impetus to act.
Pictured left: Indiana Department of Child Services Region 5 family case managers Joe Tonsing-Carter and Maryah Silver said participating in marathons, 5Ks and other healthy activities has improved their health and strengthened friendships in their office.
It wasn't an immediate reaction, however, as the family case manager had never been an avid runner.
"I served in the National Guard for 11 years, but I never ran a race on my own unless someone told me to," he said.
But three years ago, Tonsing-Carter was diagnosed with asthma and sleep apnea, and in the process of finding suitable exercises, he ended up gaining weight. Happily, being part of recent races has helped Tonsing-Carter drop 25 pounds – and he's far from finished.
"I would lose more if I improve my diet and portion control," he added.
Reggie Brown is another office member with similar experiences.
"I have never been a distance runner, and so I had always shied away from things that would require such stamina," Brown, a quality assurance analyst, reflected. "I had been working out consistently and it paid off during the run. It actually made me want to do another one so I could improve my time."
Humorously, Brown joined after his colleagues facetiously told him they had signed him up for a 5K without his knowledge.
Try turning that one down.
"Though they were joking, I decided to give it a try," he said.
(Healthy) habit forming
A board in the Region 5 DCS office serves as a frequently-updated tangible record of each event in which the office has participated. Every completed race is accounted for, and future happenings are highlighted as the dates approach.
The board is filled with photos of previous runs as well as the well-received kickball and softball games.
That bit of positive reinforcement may only be the tip of the iceberg as the Region's healthy habits continually add new members and expand to include new activities and races. The growth of the healthy initiatives is something universally sought by the people involved.
"I hope that my office continues to participate in not only the races, but all of the activities we put on throughout the year," said Silver.
She hopes more runners will join and that the activities will spread to surrounding counties, bringing even more people into the fold.
Tonsing-Carter mentioned that future events could include tennis, bowling or even flag football depending on how things work out.
Lisa Vos, a permanency family case manager, is an avid runner with years of experience, so she's, of course, hoping those events will continue.
"I enjoy running on my own as a way to clear my head and to do something 'for me,'" she noted.
Vos joined up with Tonsing-Carter and Silver last December.
"I've been running with them as often as I can since, and encouraging other coworkers to join us on the fun runs," Vos commented.
More positive outcomes
Tibbetts believes the boost to charities via participation in various runs is one of the most positive developments. She suggested the office may one day be able to organize an event of its own with an important cause – such as foster parent recruitment – front and center.
Brown added that he hopes creativity is at the core of whatever is to come.
Huhn, there from the beginning, summed it all up pretty succinctly.
"To continue having fun and maybe for more people to join in with us," she commented of her future hopes.
Garnering additional support may not be too tough as the friendships formed out of Region 5's healthy activities look to last a lifetime.
"It's really about doing something healthy for yourself while having a good time with some good people," said Tonsing-Carter.
"It's a great way to bring co-workers together as a whole," added Kourtney Wheeler, a family case manager from Tippecanoe County. Wheeler has worked for the agency for only about a year, but that's been more than long enough to make friends with her colleagues. She also sees a bright future for the program, with the past being a happy harbinger of things to come.
Collectively, the group has been part of races that took place on or near Valentine's Day, St. Patrick's Day, Halloween and Christmas. Through all seasons, the Region 5 running crew is on the move – together.
"Running with the group provides a sense of camaraderie outside the office, related Lisa Vos, a permanency family case manager. "Everyone is so busy every day that, even if you say hi and small-talk during the day, you don't really get a chance to know each other."
The fun run group has changed that.
"I enjoy working with a group of people who I genuinely enjoy spending time with, both while at work and on my time off as well," Silver said. "I hope to see that more and more people participate and that our running group only grows."
Story by Brent Brown, INSPD
Photos provided by Region 5 DCS