By Former MoneyWise Staffer, Kelly Griese
Wednesday, July 1, 2020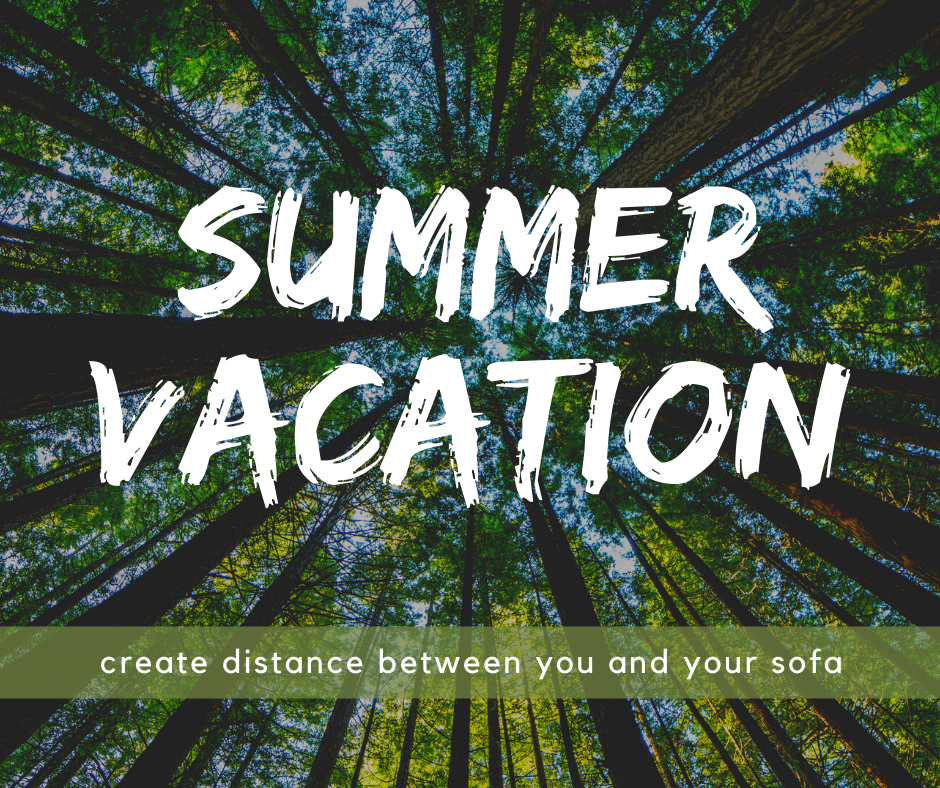 With the holiday weekend upon us, you're probably looking to create some distance between yourself and the sofa. We get it. Summer has us all itching to get outside and explore, but there are challenges this year that we have not faced in the past.
It can be especially hard on kids. Summer camps are canceled. Sports are canceled. Even running around with other kids in the neighborhood can be risky. But there are still plenty of ways to have fun as a family. In fact, if you're a parent working remotely, this may be the perfect year for a long family road trip.
In this blog post, I'm going to focus on outdoor fun that's perfect for social distancing. In planning your own trip, remember that Google is your friend! Use search words like vacation, pandemic, and budget along with any terms that best describe your ideal vacation.
---
National Parks
Our national parks are remarkable. Americans (and visitors from abroad) love exploring this nation's natural beauty. In 2019 alone, more than 327 million people visited national parks. There are 419 parks to explore! You'll want to check with the National Parks Service before embarking on your journey. While the majority of our nation's most famous parks are open right now, some sections of those parks are closed. You can research parks and check for any closures/restrictions by visiting this website.
We Recommend:
Indiana Dunes – it's great for beach lovers and bird watchers! Plus, if your kids like Pokémon Go, have them give geocaching a try.
Lincoln Boyhood National Memorial – it's great for history lovers and hikers! Parks like Lincoln Boyhood help bring the past to life, which is great for getting children excited about learning.
---
State Parks
Visits to state parks can be equally fun and frugal. All Indiana Department of Natural Resources properties are open right now, including state parks, but there are a few services and facilities that are temporarily closed due to the pandemic. DNR regularly updates its website with information about such restrictions, and you can view the full list here.
We Recommend:
Clifty Falls – it's great for waterfall lovers and fossil enthusiasts. We love this state gem so much here at the Indiana Secretary of State's office, that we named one of our conference rooms after it! And if you're looking for more waterfalls to chase, Indiana has plenty of options. Visit Indiana put together this inspiring list.
Angel Mounds – it's great for bicyclists and history buffs. Located in Evansville, this site is nationally recognized as one of the best-preserved prehistoric Native American sites in the United States. You may also be interested in Mounds State Park near Anderson, which features 10 unique earthworks built by the Adena-Hopewell people. The largest mound is believed to have been constructed around 160 B.C.
Quick Tips:
Many water fountains have been turned off due to the pandemic. Don't forget to bring plenty of water! And if you're traveling with pets, you'll want a portable dish for their water.
You may need special permits or licenses to enjoy some activities, such as hunting, fishing, and boating. Check with the department of natural resources in the state you're visiting to see what's required.
Make campground reservations in advance! Nothing worse than showing up and not having a place to stay.
---
RV Rentals
Maybe you don't want to add mileage to your own vehicle, or perhaps you simply want some room to spread out for the long drive. RV rentals are all the rage right now. Just make sure you do your research. There's a lot to consider before renting an RV. What kind of vacation are you planning? Where are you traveling? Are you comfortable driving such a large vehicle? Do you know where you can park it? Have you created a fuel budget? I am by no means an RV expert, but the folks at KOA are! They have 10 tips for renting an RV that you'll want to read as part of your trip planning.
---
Cabin Rentals
Recently, I've noticed a lot of social media posts that feature my friends having fun with their families at rental cabins here in Indiana and some of our neighboring states. Cabins can be a great way to get away during a pandemic. There's typically more space between you and any other folks on vacation, and it's still a change of scenery from your primary quarantine residence. But before you jump on VRBO or Airbnb, you once again need to consider your vacation carefully. Frommer's provides some essential words of wisdom.
Know what you want. You need to identify your priorities, such as location and amenities. If the cabin absolutely must be waterside, then know you might spend more on that priority.
Timing is everything. Research what's going on in the surrounding community. Right now, this is one way you can likely save, because many events are canceled. You probably don't need to worry about a large festival or sporting event inflating the cost of rental properties.
Authenticate the property. It is vital you verify that the pictures and description you've found online match a real property that's available for rent. There are far too many horror stories about scams involving vacation rentals for you to forgo this step.
---
Fishing Trips
Fishing is a great way to spend time together as a family. Whether you practice catch-and-release, or you're looking to reel in a campfire meal, this is an activity just about everyone can learn and enjoy. The U.S. Fish and Wildlife Service wrote a great beginner's guide for aspiring anglers that I highly recommend. One of the key takeaways is getting a fishing license! Once you know the basics and have a license, you can plan your fishing adventure. Gear and location are two major components of any fishing trip. Do you need to buy gear, or is rental equipment available? Are there fees for using the location? Are you allowed to keep what you catch?
We Recommend:
Quick Tips:
It's important to be a good steward of the environment when fishing. Abandoned gear is harmful to wildlife, and overfishing ruins the fun for future generations.
Bring a first aid kit with you. Fishing injuries are fairly common. Here are some tips for tending to injuries that might occur.
Wear lifejackets or personal floatation devices (PFDs) when fishing from a boat.
---
Roadside Attractions
Finally, let's talk about a staple of family vacations: the roadside attraction. This term may make you think of weird wastes of money, but that's not always the case. Kids love these quick stops, and many are accessible without paying a cent. Plus, they make for some fun family photos. Visit Indiana compiled an awesome list of roadside attractions you can find in the Hoosier state, and most of them are outside!
Quick Tips:
Bring hand sanitizer and sanitizing wipes if you plan on getting up-close-and-personal with any of these landmarks.
Check if there is an Instagram hashtag for the location. Such spots are hot with social media influencers.
---
Blog topics: Budgeting, Fraud Prevention, Archive
The MoneyWise Matters blog has a wealth of information about managing money and avoiding fraud. You can look through the complete archive here.