By Former MoneyWise Staffer, Kelly Griese
Wednesday, March 11, 2020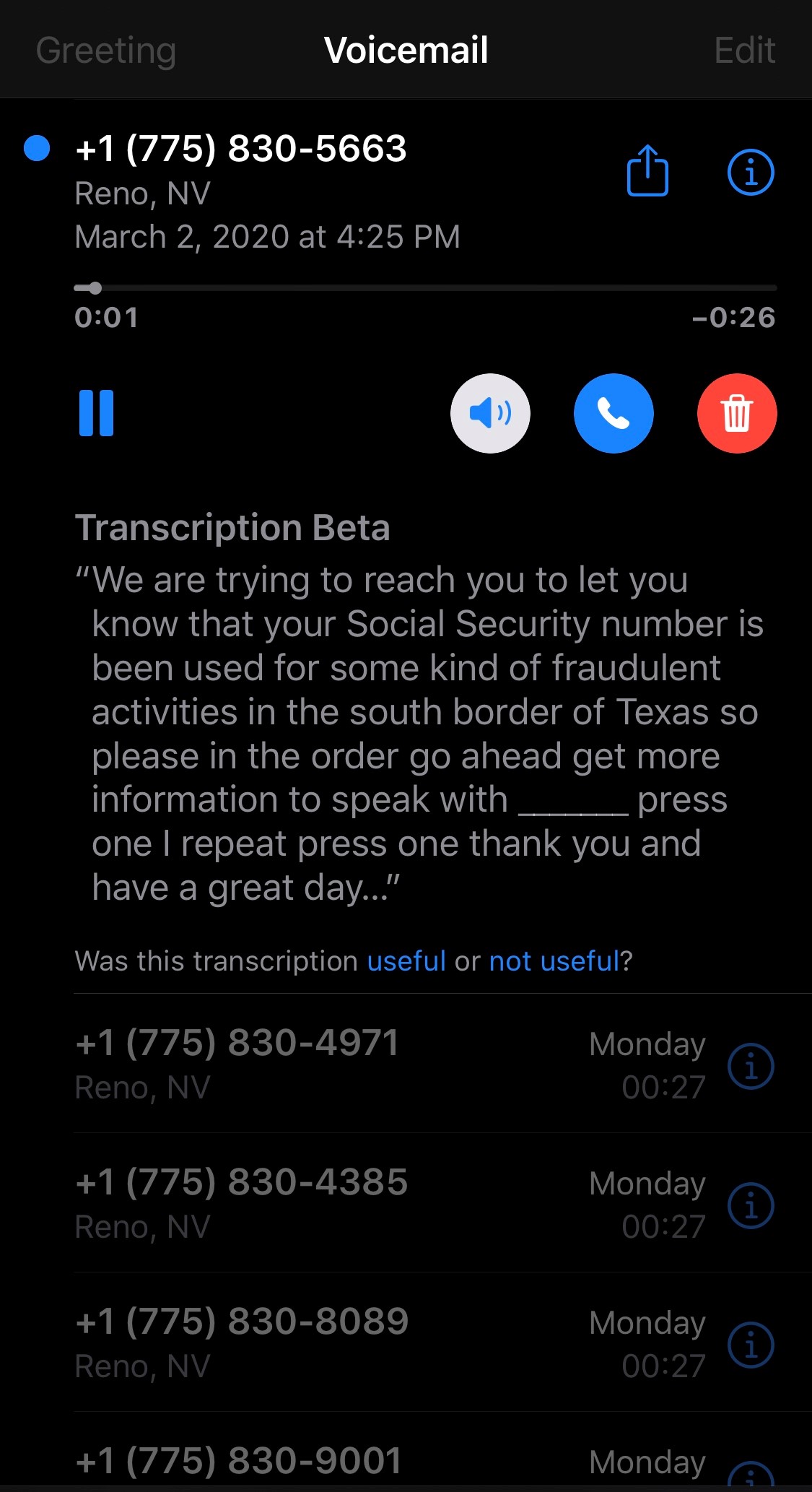 I had planned to write about something else this week. Then I received SIX calls in one day, from six different phone numbers, and they all left the exact same voicemail. I knew I had to share this information with all of you. Here's the transcription of the voicemail.
We are trying to reach you to let you know that your Social Security number is been used for some kind of fraudulent activities in the south border of Texas. So please in order go ahead get more information. To speak with officer, press one. I repeat, press one. Thank you and have a great day.
The voice was computerized. The message was vague. The purpose was clear. This is an impostor scam designed to scare people into providing personally identifiable information to fraudsters. Ironically, I received these SIX voicemails just three days before a massive public awareness campaign launched by the REAL Social Security Administration called "Slam the Scam Day."
The Federal Trade Commission says Americans reported losing nearly $153 million to government impostor schemes in 2019. Of that, more than $37 million was lost to Social Security scams. It's no wonder the Social Security Administration (SSA) is working hard to educate Americans about this scam. The agency regularly posts about it on Facebook, Twitter, Instagram, and LinkedIn. They have created public service announcement videos for YouTube. They write about the scam in the Social Security Matters blog. And they've even asked our office to help get the word out. They'd love for all of you to help spread the news as well. I'm hoping this blog post will provide you with the key points you need to know. I'm also hoping you'll share the information with your friends, family, and coworkers.
SSA may call you in some situations, but stress that they will NEVER:
Threaten you
Suspend your Social Security number
Demand an immediate payment from you
Require payment by cash, gift card, pre-paid debit card, or wire transfer
Ask for gift card numbers over the phone or to wire or mail cash
SSA advises that if you receive a suspicious call, HANG UP! Do not give the caller money or personal information. Finally, report the scam to the Office of the Inspector General. You can do so via their website or by calling their hotline: 1-800-269-0271.
Here are some red flags that you're talking with a scammer:
The caller says there's a problem with your Social Security number or account. (That's what the robocaller claimed in the voicemail I received).
Any call asking you to pay a fine or debt with retail gift cards, wire transfers, pre-paid debit cards, internet currency, or by mailing cash.
Scammers pretend they are from Social Security or another government agency. Caller ID or documents sent by email may look official, but they are not. (Learn more about caller ID "spoofing" by checking out the Federal Communications Commission's webpage on the subject.)
Callers threaten you with arrest or other legal action.
Again, the Social Security Administration wants to spread the word. Tell the people in your life about this scam. Share this blog post. Share links to SSA's content on the subject. And get used to listening to and DELETING a lot of annoying voicemails.
---
Blog topics: Fraud Prevention, Archive
The MoneyWise Matters blog has a wealth of information about managing money and avoiding fraud. You can look through the complete archive here.