By Former MoneyWise Staffer, Kelly Griese
Wednesday, February 12, 2020
Love Hurts
A quick Google search of the words "Love Hurts song" yields numerous results. The Everly Brothers, Patrick Swayze, Roy Orbison, Rod Stewart, Heart, Joan Jett, and more. They all sang about heartache. It's relatable. Most of you reading this blog have experienced such emotions and can think of someone in your life who "gave love a bad name." But the pain of a broken heart can be even greater when THE ONE doesn't even exist. It can also be costly.
Online dating and social media have made it easier than ever to meet new people. You chat with a lot of them, meet a few for dates in the real world, and hopefully find someone special worthy of additional dates. Or maybe not. One of those online profiles seems too good to be true. The perfect catch! And while they have a lot of reasons why they can't meet in person yet, they want to know everything about you.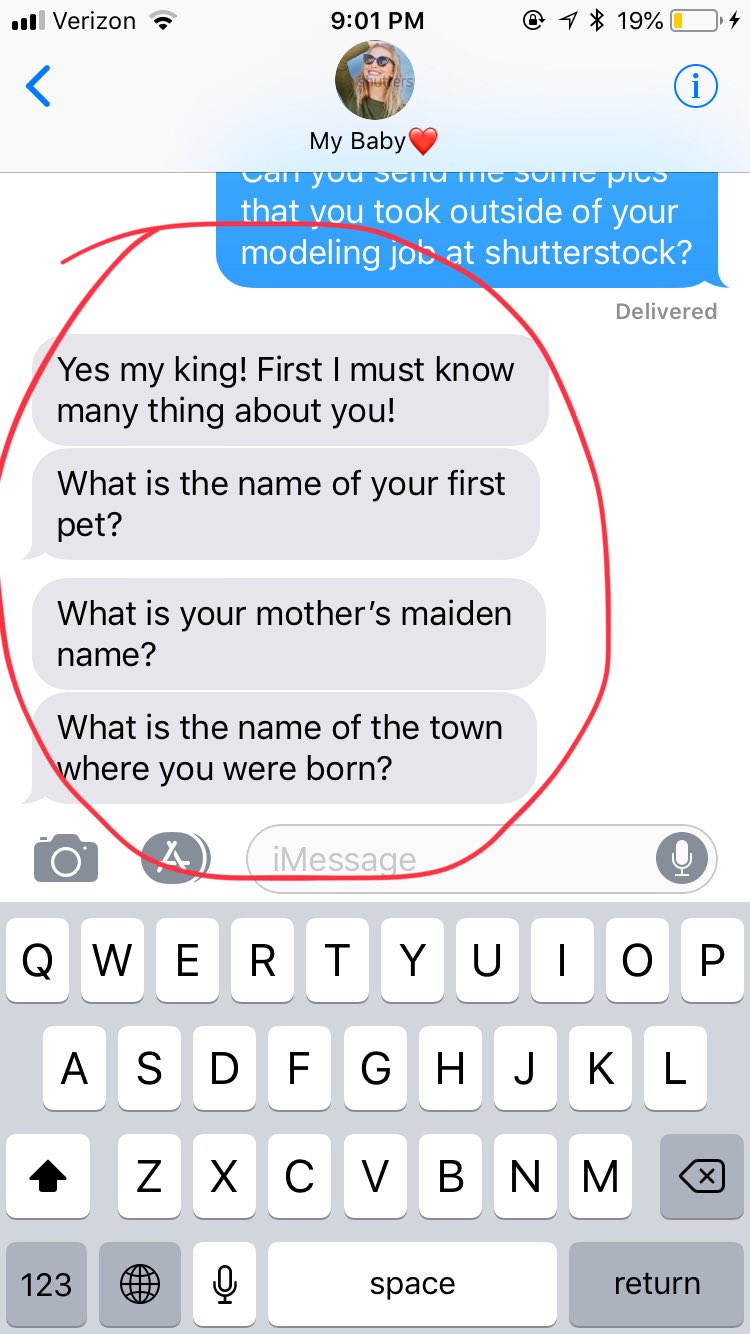 In December 2019, the internet couldn't get enough of one guy's online romance. Twitter user @nickturani had met THE ONE! He tweeted, "Ladies take notes! Met this girl online YESTERDAY, and she's already trying to learn more about me, not just hook up. It's called conversation. Learn it." Then he proceeded to share a screen grab of all the things his new girlfriend wanted to know about him.
The name of his first pet
His mother's maiden name
The name of the town where he was born
No doubt she would also be interested to learn his Social Security number… you know, typical first date information.
Obviously, Nick was being "catfished." If that term is new to you, let me explain. Merriam-Webster defines this type of catfish as "a person who sets up a false personal profile on a social networking site for fradulent or deceptive purposes." Catfishing is sometimes done as a cruel joke, possibly by a person who knows you in real life, but it's also quite popular as a means of stealing information and money. In the example above, it seems that Nick is aware his new "girlfriend" isn't real, and he's making a joke about the blatant attempt to gather answers to password recovery/reset questions. Not only is Nick's girlfriend not actually interested in him, she's probably not a person at all. In all likelihood, she's a bot, which is the common name for autonomous computer programs that can interact with real people online.
Dating websites and apps are filled with bot accounts, so you need to be careful. Some are obvious, like Nick's girlfriend, but others are more advanced. And, yes, sometimes a real person is on the other end of the conversation. If you're dealing with a con artist, brace yourself. They can create compelling backstories with full-fledged identities. They might also use attractive photos of models to lure you in. That's what happened in a romance scam reported by Bob Segall with WTHR. He talked with a 70-year-old widow who spent two months talking with a con artist named "Richard." The scammer was after cash, as many of them are.
According to the Federal Trade Commission, Americans reported losing $143 million to romance scams in 2018. The median reported loss was $2,600, and for people over 70, it was $10,000. Online dating isn't just for young people. More and more seniors are looking for love via dating websites and apps, creating an even bigger pool of potential victims.
---
Spotting Scams
So how can you spot a scam? Here are some great tips provided by the Better Business Bureau:
Too hot to be true. Scammers offer up good-looking photos and tales of financial success. Be honest with yourself about who would be genuinely interested. If they seem "too perfect," your alarm bells should ring.
In a hurry to get off the site. Catfishers will try very quickly to get you to move to communicating through email, messenger, or phone.
Moving fast. A catfisher will begin speaking of a future together and tell you they love you quickly. They often say they've never felt this way before.
Talk about trust. Catfishers will start manipulating you with talk about trust and how important it is. This will often be a first step to asking you for money.
Don't want to meet. Be wary of someone who always has an excuse to postpone meeting because they say they are traveling or live overseas or are in the military.
Suspect language. If the person you are communicating with claims to be from your home town but has poor spelling or grammar, uses overly flowery language, or uses phrases that don't make sense, that's a red flag.
Hard luck stories. Before moving on to asking you for money, the scammer may hint at financial troubles like heat being cut off or a stolen car or a sick relative, or they may share a sad story from their past (death of parents or spouse, etc.).
Many of these examples are included in a video created by the Federal Trade Commission.
The Federal Trade Commission provides some additional information about the types of requests that romance scammers often make:
Pay for a plane ticket or other travel expenses
Pay for surgery or other medical expenses
Pay customs fees to retrieve something
Pay off gambling debts
Pay for a visa or other official travel documents
The scammers often ask you to wire the money or purchase prepaid cards from MoneyPak, Amazon, Google Play, iTunes, or Steam.
---
Protect Yourself
There are ways to protect yourself from romance scams. The Better Business Bureau provides more tips:
Never send money or personal information that can be used for identity theft to someone you've never met in person. Never give someone your credit card information to book a ticket to visit you. Cut off contact if someone starts asking you for information like credit card, bank, or government ID numbers.
Ask specific questions about details provided in a profile. A scammer may stumble over remembering details or making a story fit.
Do your research. Many scammers steal photos from the web to use in their profiles. You can do a reverse image lookup using a website like tineye.com or images.google.com to see if the photos on the profile are stolen from somewhere else. You can also search online for a profile name, email, or phone number to see what add up and what doesn't.
So, yeah, "Love Hurts," and scammers certainly "give love a bad name." I'd use more lyrics and song titles as puns, but I think you get the idea. Stay safe in this season of love and romance. Protect your heart. Protect your identity. Protect your bank account.
---
Blog topics: Fraud Prevention, Archive
The MoneyWise Matters blog has a wealth of information about managing money and avoiding fraud. You can look through the complete archive here.