By Former MoneyWise Staffer, Kelly Griese
Wednesday, March 25, 2020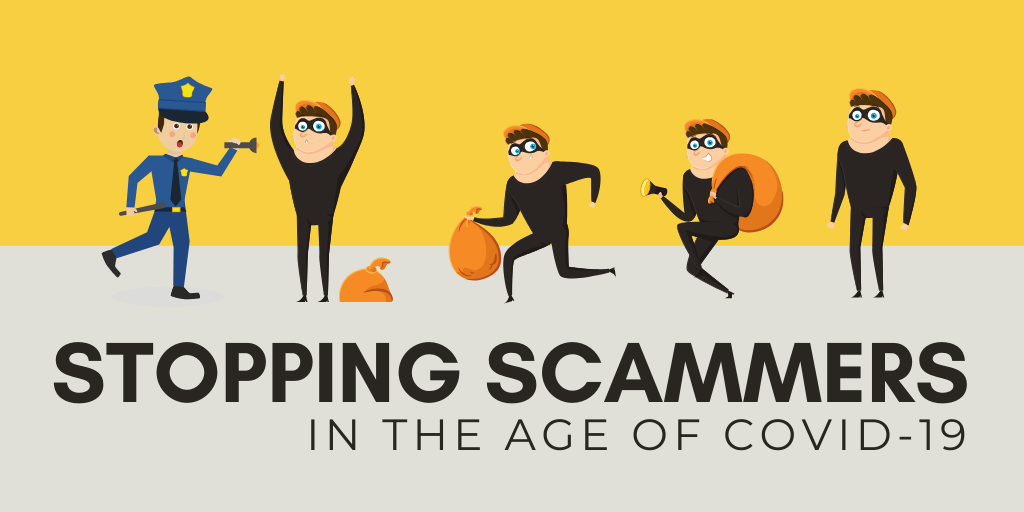 The coronavirus, or COVID-19, is all anyone can talk about. Terms like social distancing, pandemic, and hand sanitizer have been added to our daily vocabulary. We're discussing toilet paper and hand washing more than ever before. And many of us are finally getting caught-up on binge-worthy series we've been meaning to watch for ages. It's weird. It's stressful. I understand. But while our guard is up regarding germs, we're probably a little less guarded when it comes to scams.
Emergency situations often cause us to react without much thought. Our brains don't always work the way we want them to when we're scared, and con artists know it. They exploit our fear for their gain. Sometimes they build scams around natural disasters, such as hurricanes, tornadoes, and even volcanoes. Sometimes the scams are tied to health emergencies, such as COVID-19, Ebola, and swine flu. Whatever the source of our fear, con artists are exceptionally good at creating a scam to go with it.
Right now, many of us are split between worrying about our health and worrying about our finances. I'm going to focus on scams related to our finances.
---
Investment Fraud
With the current volatility in the market (Kylee wrote about it last week), I want to urge you to be especially cautious when contacted by anyone regarding your investments. If you are contacted, do not give out personal information. Instead, call your investment professional on a number you know to be trustworthy and ask if the contact is legitimate. Some calls could be real, but others could be from people trying to take advantage of this economic turmoil. If you believe you've been contacted by someone engaging in investment fraud or fraudulent activities, you can report it to the Indiana Securities Division.
---
Checks from the Government
By now, you've probably heard that the federal government is working on an economic stimulus package that would provide many Americans with money. We don't yet know how much money or how it will be distributed. But what we do know is that scammers will no doubt try to take advantage of the situation. The Federal Trade Commission shares these tips for protecting yourself:
The government will not ask you to pay anything up front to get this money. No fees. No charges.
The government will not call you to ask for your bank account, credit card, or Social Security numbers. Anyone who does this is a scammer.
These reports of checks are not yet a reality. Anyone who tells you they can get you the money now is a scammer.
Just remember, no matter what this payment winds up being, only scammers will ask you to pay to get it. If you spot one of these scams, report it to the Federal Trade Commission. It's also a great idea to sign up for the FTC's consumer alerts.
---
Charity Scams
In times of crisis, some of us become more charitable. We see others suffering, and we want to help. It's a wonderful instinct to have, but you need to take caution. Scammers are eager to exploit your generosity. They will use names that sound a lot like the names of real charities and create convincing websites to lure you in. Money lost to bogus charities means less money for those who need it most, so it's important that you do your research before donating. Here are some tips from the Federal Trade Commission:
When you consider giving to a specific charity, search its name plus "complaint," "review," "rating," or "scam."
Use these organizations to help you research charities.
If someone wants donations in cash, by gift card, or by wiring money, DON'T DO IT! That's how scammers ask you to pay.
Keep a record of your donations and review your financial statements carefully to make sure you're only charged for the amount you agreed to donate – and that you're not signed up to make a recurring donation if that was not your intent.
In Indiana, charity scams should be reported to the Indiana Attorney General. If you need to make a report in another state, the National Association of State Charity Officials has a great list of all the state charity regulators.
---
How Scammers Think
One of the best ways to protect yourself against scammers is to learn how they think. There are far too many scams out there for me to discuss them all, but once you learn the basics, you'll be able to spot new scams. So here are some things to keep in mind:
Scammers are in a hurry. Time is money, and in order to maximize their returns, scammers need to communicate with as many people as possible as quickly as possible. They will try to rush you into giving them money and/or personal information. Not only does this keep you from taking the time to discover they're lying, but it helps them move on to their next victim.
Your caller ID could be lying to you. Scammers utilize something called "spoofing" to make it appear as if you're receiving a call from your normal area code (like 317, 812, and 765). Or they may even put names on the caller ID (like Social Security and IRS). There's really no way of knowing where the call originates, so never do business over the phone if you can't verify the caller's identity.
Scams are often lacking important details. The scammers may make vague, sentimental, or sensational claims but give no specifics. Crucial paperwork is typically missing.
They make unrealistic promises. If anything sounds too good to be true, it is. With investing in particular, beware of anyone who offers guaranteed returns or claims to know about a no-risk investment. Remember that risk and reward go up and down together. There's no such thing as a high return/low risk investment.
Beware of gifts and incentives. Scammers could say you're going to win a lot of money or some big prize, such as a vacation or a car. Or they might simply offer some swag or a free trial to open the doors to communication. Legitimate businesses and organizations use these tactics too, so it can be challenging to figure out who to trust.
Scammers make threats. This goes back to using fear as a manipulation tactic. Scammers may talk about arresting you or mention a warrant. They could claim someone you care about is in danger or in need.
If you notice any of these red flags, contact the proper authorities immediately. If you're not sure who that is, contact me at kgriese@sos.in.gov. I'll connect you with the correct agency.
---
Blog topics: Fraud Prevention, Archive
The MoneyWise Matters blog has a wealth of information about managing money and avoiding fraud. You can look through the complete archive here.