By Former MoneyWise Staffer, Kelly Griese
Wednesday, March 17, 2021
One week ago, Congress approved the American Rescue Plan Act of 2021, which was then signed into law by President Biden. The plan includes a lot, but I'm going to focus on three big parts likely to have the most direct impact on you right now.
Stimulus Checks
The stimulus package includes direct relief for Americans based on their adjusted gross income, tax filing status, and whether they have dependents. With so many variables, you might be wondering whether you qualify. Most single, childless adults who make less than $80,000 will receive $1,400. But to know for sure how much you can expect to receive, check out CNN's stimulus check calculator.
Another important note regarding stimulus payments is the fact that the bill calls for an additional payment for each dependent in your family. The last two stimulus packages restricted add-on payments to dependent children age 16 or younger. The new stimulus package includes older dependents, even elderly parents who might be living with you. Let's say you're a single parent making $72,000 annually, and on your last tax return you claimed two dependents – your 20-year-old child in college, and your 68-year-old mother. Your new stimulus check will be for $4,200, which is $1,400 per person in your household.
I mentioned your tax return, and that's critical to determining how much money you will receive. The amount you receive will be based on your 2019 return if you have not yet filed this year. But if the IRS has already accepted and processed your 2020 return, it will be used to determine your eligibility for the new stimulus payments. For some folks, this is very important information, especially if you are making substantially more or less than you did a year ago.
Direct deposits began appearing in bank accounts over the weekend, though some Americans complained that the deposits were marked as "pending," meaning they couldn't spend the money yet. Depending on where you bank, it might take a few days for the stimulus checks to clear the process and be useable. Two of the nation's largest banks – Wells Fargo and Chase – took to Twitter to reassure their customers that most will have access to stimulus funds by today, March 17. If you do not receive your tax refunds via direct deposit, you won't receive your stimulus funds that way either. Instead, the money will come to you in the form of paper checks or prepaid debit cards, which are expected to be sent out before the end of the month.
If you want to check the status of your payment, you can do so on the Internal Revenue Service's website. The site asks for your Social Security number, date of birth, and address to verify your identity. Then it provides you with a status update that looks something like this: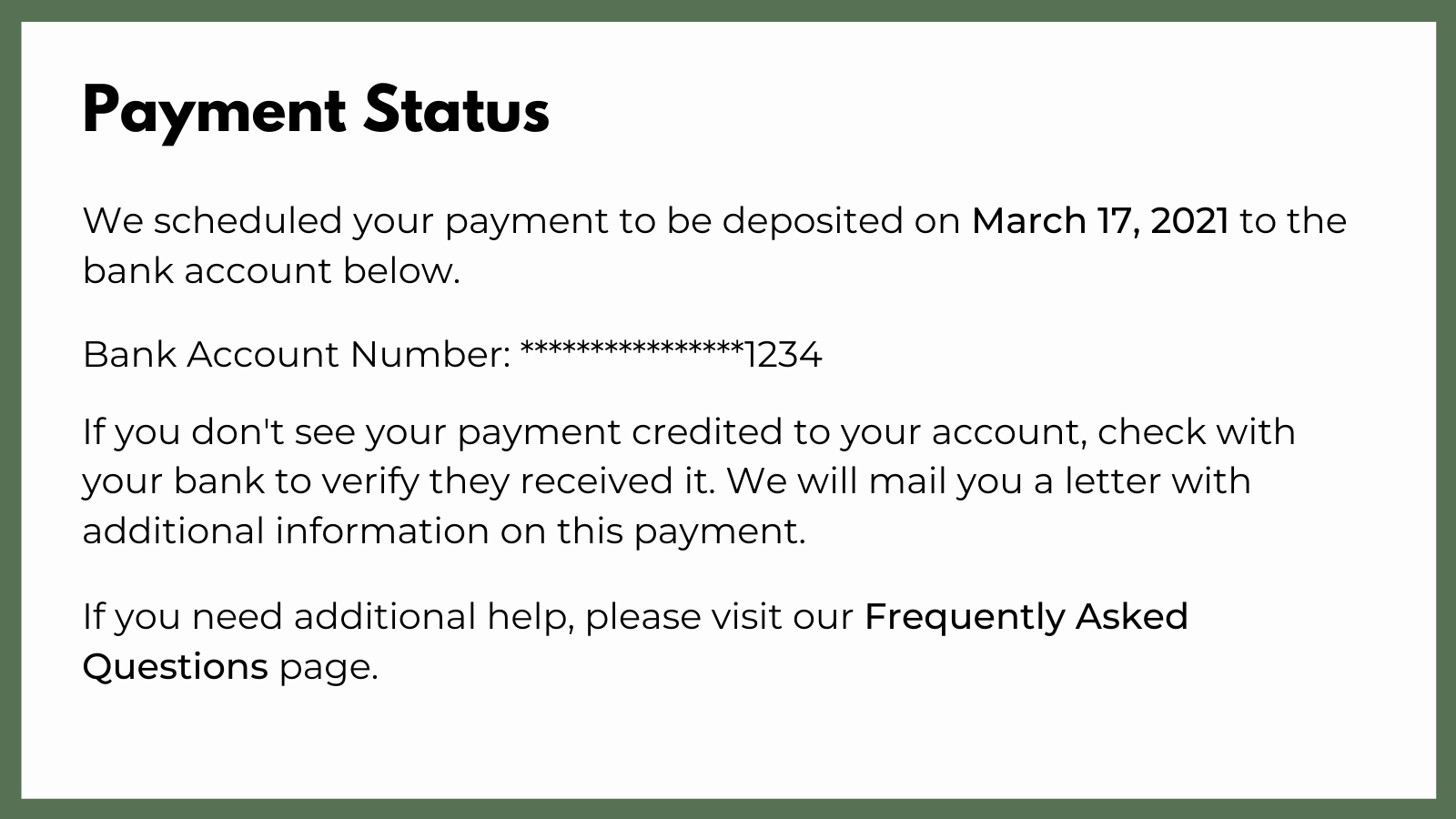 Child Tax Credit
The new stimulus package also includes child tax credits for 2021. The temporary increase will be $3,000 a year for each child ages 6 to 17, and $3,600 for each child under the age of 6. The bill provides a major boost in comparison to the existing child tax credit, which provides $2,000 a year for all children through age 16. Additionally, some families will receive multiple payments over the course of a year, rather than one lump sum during tax season. Some families will receive advance payments later this year. But as Kiplinger reports, the changes are complicated and won't help everyone.
For instance, there are now two ways in which the credit can be reduced for upper-income families. That means some parents won't qualify for a larger credit and, as before, some won't receive any credit at all. The IRS also has a lot of wiggle room when it comes to the advance payments, so it's hard to predict the size of these payments or exactly when you'll get them. More children will qualify for the credit in 2021, too. And, if you have more than one kid, the credit amount could differ from one child to another.
Proponents of this expanded child tax credit say it could reduce child poverty in this country by as 40%. The child tax credit is already popular, and this expansion is sure to be well received by lower-income families.
Kiplinger goes into a lot more detail about the new child tax credit, and it's worth reading if you're a parent. Kiplinger also has an online calculator to help you determine your own child tax credit. And for a look at all the different tax benefits for parents and retirees, check out this article from CNET.
Unemployment Benefits
Unemployment benefits are another major part of the American Rescue Plan. Existing $300 weekly unemployment benefits will be extended through September 6 of this year. This is money from the federal government on top of any unemployment benefits you receive from the state.
The new relief package also extends new unemployment programs that were created specifically for pandemic relief. These unemployment programs target gig workers and the long-term unemployed.
Plus, there's a new federal tax waiver that makes it possible to avoid paying taxes on the first $10,200 you received in unemployment benefits in 2020. If you already filed your 2020 taxes and didn't utilize this waiver, you'll likely have to file an amended tax return, but we're still waiting for formal guidance from the IRS on how that will be handled. It's possible you may qualify for a larger refund.
For much more information about unemployment benefits, check the Indiana Department of Workforce Development and the US Department of Labor websites.
---
Blog topics: Archive, Budgeting
The MoneyWise Matters blog has a wealth of information about managing money and avoiding fraud. You can look through the complete archive here.