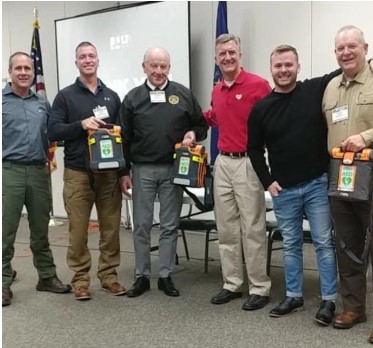 Recently at the Indiana Sheriff's Association fall conference Bolt for the Heart President Pierre Twerr presented the Morgan County Sheriff's Office with the first donated AED.
Morgan County Law Enforcement is actively working with Bolt for the Heart to equip every Morgan County patrol car with these life saving instruments at no cost to taxpayers.
If you would like to donate to this cause go to boltfortheheart.com or contact the Morgan County Sheriff's Office.
Also, join us for the 2019 Bolt for the Heart Thanksgiving Day Walk/Run. This is the 8th annual event held in Carmel, Indiana. All proceeds are used to equip indiana law enforcement vehicles with AED's.
Exercise in the morning, eat in the afternoon! www.boltfortheheart.com