INSPECT
Indiana's Prescription Drug Monitoring Program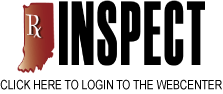 Related Links & Training Opportunities
Please direct all inquiries to: inspect@pla.in.gov

INSPECT now sharing live data with Ohio!
lNSPECT is excited to announce the release of the new PMPi feature in the WebCenter. This function will allow practitioner users to check a box which will request prescription data from Ohio as well as Indiana to be included on the Rx History Reports. Sharing prescription data will enable practitioners around the state borders to have full access to patient records whether the prescription was written or filled in Indiana or Ohio. This will enable INSPECT users to identify potential doctor-shoppers or drug seekers that are crossing the border to obtain prescriptions and vice versa. Please review the documents below for more information on this exciting new feature.
UPCOMING TRAINING EVENTS
Click here for more information on these training opportunities or to reserve a space.
11/16/2011 - Muncie

12/7/2011 - Indianapolis
IMPORTANT INFORMATION

10/18/11 - Change in Zero Reporting!
Beginning 11/15/2011, the Online Zero Reporting Form available from the in.gov page will no longer be accepted by INSPECT. Entities which need to report zero prescriptions dispensed will need to do so via an online account with the INSPECT WebCenter. If your facility does not have an account, please contact Kara Gordon at kargordon@pla.in.gov to set up an account. Please make arrangements to report via the INSPECT WebCenter as soon as possible.

10/18/11 - Court Staff & Probation Officer Access & Usage
Please review the new policies and access guidelines for Probation Officers and other eligible court staff. Those not eligible for access include case managers, office assistants, office coordinators and other office or administrative staff. If you have questions regarding PO access please email inspect@pla.in.gov .
7/5/11 - Waiting on your registration to be approved?
Make sure you have fully completed your registration with the INSPECT WebCenter. If you have registered online, but have not submitted the account re-authentication form, your registration is not complete. INSPECT will only be able to process your registration once that form has been submitted to our office. A copy of that form along with more informationcabe be found here: http://www.in.gov/pla/2333.htm . It is not necessary to complete this form for a Pharmacy Data Upload Account.
Unsolicited Reporting FAQs INSPECT will begin the process of sending out Person of Interest (POI) Alerts to practitioners on October 12th, 2010. Please review the Unsolicited Reporting FAQ document and forward any questions you may have to inspect@pla.in.gov.
SYSTEM UPGRADE INFORMATION:
Please review the information below for the new requirements:
---

INSPECT Program

402 W. Washington St. Rm W072, Indianapolis, IN 46204