Article
Section
Downtown Development Week
From October 8 – 14, OCRA wants to join all Indiana towns and cities to celebrate their downtowns during the inaugural Downtown Development Week (DDW). This week we want to honor cities and towns' commitment to preserve and invest in the heart of the community – their downtown! Indiana Downtowns are many things, and some of them include: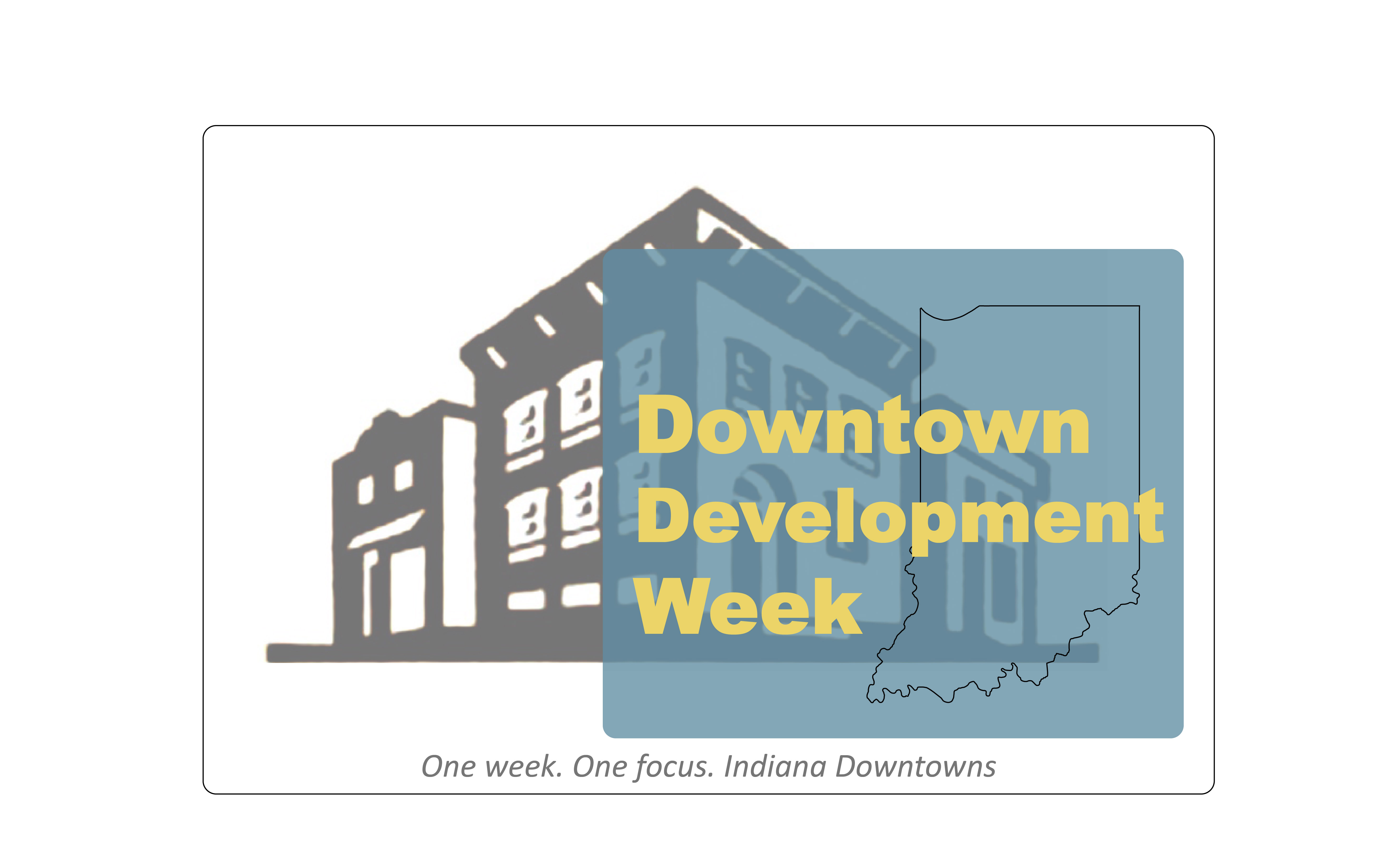 a central commercial district,
a prominent employment center,
the historic core of the community,
the community gathering place,
local business incubator,
a significant community tax base,
and most importantly, a reflection of community image, pride and prosperity.
During this week, we challenge all our partners to celebrate their downtowns by sponsoring events, activities, festivals, parades, business promotions, restaurant deals, or a combination of a few activities to highlight the best of their downtowns. The sky's the limit!
Grant Opportunity
Downtown Development Week (DDW) is an excellent opportunity to showcase all of the positive activities and investments that are happening in your downtown! Focus on activities that celebrate your community's unique downtown heritage as well as acknowledging and supporting all the businesses and services that are an integral part of your downtown.

To help with your DDW event or activity, the Office of Community and Rural Affairs will be awarding no more than 5 DDW promotion grants of $1,000 per event / activity. The event MUST take place the week of October 8 – 12, 2018, in your community's downtown area and be open to the public.

Eligible applicants include:
Local units of government sponsoring an event or activity in their downtown during DDW.
Indiana Main Street organizations sponsoring an event or activity in their downtown during DDW.
Community groups or organizations sponsoring an event or activity in their downtown during DDW.
Grant requests of $500 - $1,000 will be accepted. There is a 1 to 0.5 local match requirement. For each DDW dollar requested, the match must be one half dollars. Of that, the match can be either cash, in-kind contributions or a combination of both. For example, a minimum match of a $1,000 request would be $500 of cash or in-kind.
Applications must be received by
4 pm (ET) on Friday, June 29, 2018
. Submit application to:
info@ocra.in.gov.
No hard copy applications will be accepted.
Events & Activities
OCRA is planning or providing the following for the week:
Marketing material will be available to download to help you promote the week through your social media channels.
Collect planned events and help create have an online map which will be a place view of all community events, programs and activities.
From June 1 through July 8, an online voting contest is open for photos that capture

the spirit and uniqueness of your community's downtown

OCRA's Quick Impact Place Based Program will offer extra points if the project will launch, be completed and/ or celebrated
Participating communities will determine what activities they will create, sponsor or leverage during the week. All Indiana communities are invited to participate and OCRA will be celebrating with you! Lieutenant Governor Suzanne Crouch may also visit a few communities during the week to help them celebrate.
Bring the LG to My Community
Enter your photos in the Bring the LG to My Community contest. Photographers of all ages are invited to enter their best high-resolution images capturing the spirit and uniqueness of your community's downtown. Post a photo on your Facebook, Twitter or Instagram account and use the hashtag #LgtomyDowntown to be entered.
Some ideas of what to capture include special events, landmarks, streetscapes, green spaces/parks, businesses or people enjoying downtown activities. If your picture is selected as a winner, the community will be responsible for selecting a special event or activity for Lt. Governor Crouch to visit during the week.

To view the official rules, click here.
How can you celebrate?
The possibilities are endless! Indiana loves celebrating and showcasing all the great things that make us Hoosiers! You don't have to plan anything big or expensive to showcase your downtown. Think outside the box when identifying potential partnerships that will help you promote or sponsor. Partnership and communication between organizations, your local unit of government and downtown businesses are key to any successful event. List planed events to help create complimentary activities or events. For example, if your downtown is already holding a fall arts festival coordinate with local businesses to extend their hours and to offer DDW specials. Or possibly have special coupons available to be redeemed at downtown businesses. Work with your community's particular assets and strengths to determine your plan. We hope this will be a fun celebration and encourage you to make it unique to your community.
Tell us you are celebrating
As we draw closer to October, we will ask communities to share with us the list of events they have planned for the week.
Please contact us to tell us how your town is celebrating Downtown Development Week.