This Week's Facts:
Federal Resources Offer Many Black History Month Resources

Online Exhibit Presents Rare Look into African-American History

Keep Your Party Healthy with these Super Bowl Food Safety Tips
---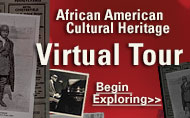 Virtual Tour Highlights African-American Cultural Heritage
Would you like to travel to the Smithsonian? You can travel virtually without the cost of airfare and lodging. The Smithsonian Center for Education and Museum Studies/Smithsonian Education has an African American Cultural Heritage Virtual Tour to help educate and enlighten citizens about the contributions and history of African-Americans. Objects in this tour were specifically chosen because of the fascinating stories they tell. From this site you can explore objects, take quizzes, create and participate in various activities, and other tools and resources to learn about African-Americans and different ways you can celebrate in Black History Month activities. Black History Month is a time for all Americans to learn and embrace the many contributions of African-Americans to our culture.
---
Friday Facts Editorial Team:
Katharine Springer
State Data Center Coordinator
Kim Brown-Harden
Federal Documents Coordinator
---
Join the FDLP-IN listserv for the latest government information
---

Federal Resources Offer Many Black History Month Resources
In February, we celebrate African-American History Month in the United States by Presidential Proclamation. Here are some African American population facts by the numbers:
In 2011, there were 2.3 million military veterans in the United States with African-American heritage. Source: 2011 American Community Survey
In 2007, New York led all states with 10.6% of firms with African-American ownership. Georgia and Florida followed, at 9.6 percent and 9.4 percent, respectively. Source: 2007 Survey of Business Owners
In 2007, receipts for businesses with African-American ownership in the U.S. totaled $135.7 billion, up 53.1 percent from 2002. The number of businesses totaled 1.9 million in 2007, up 60.5 percent. Source: 2007 Survey of Business Owners, Economic Census
For additional national resources for African-American History Month, visit the Smithsonian's History and Heritage website for Black History Month 2013 and the website of the future National Museum of African American History and Culture, which is currently under construction in Washington DC. The National Museum of the United States Air Force also has online resources on its website this year. For statewide resources, check out Indiana Historical Bureau's listing of African American Historical markers across the state here and its listing of Underground Railroad bibliographies.
Online Exhibit Presents Rare Look into African-American History
The Library of Congress would like to take you on an odyssey. The African-American Odyssey exhibit and collection showcases the library's extensive African-American collections. They include a variety of materials, such as rare books, government documents, manuscripts, maps, musical scores, plays, films, and recordings. The exhibit takes you through African-Americans' lives and experiences through nine chronological periods. Each period documents the courage and determination of African-Americans who were faced with adverse circumstances to overcome enormous odds to participate in all aspects of American society and equality. The exhibit includes the work of abolitionists in the first half of the nineteenth century, depictions of the long journey following the Civil War toward equality in education, employment, and politics; strategies used to secure the right to vote; recognition of outstanding African-American leaders; and the contributions of sports figures, African-American soldiers, artists, actors, writers, and others in the fight against discrimination and segregation. This exhibit provides a rich picture of more than 200 years of African-American struggle and achievement and holds a crucial, integral part of American history.
Keep Your Party Healthy with these Super Bowl Food Safety Tips
Whether or not your favorite team made into the Super Bowl this year, Super Bowl Sunday is always a fun day to get together with friends and family, eat lots of good food and cheer for good old fashioned American football. While eating all those delicious finger foods is easy, sometimes keeping food bacteria-free isn't. USA.gov makes sure you keep your guests healthy with these food safety tips:
This information is brought to you as a courtesy of the U.S. General Services Administration (GSA) via the USA.gov blog.