This Week's Facts:
Celebrate Hoosier Women Artists in March
Lt. Governor Becky Skillman is celebrating Women's History Month in March by highlighting and acknowledging the contribution Hoosier women artists have made to Indiana. Female artists from Indiana are invited to submit their original artwork for consideration. Winning artists will display their work in the Lt. Governor's office for one year. Materials must be submitted by February 18, 2011 and the winning artwork will be displayed beginning in late March 2011. For more details and information, please check out the Celebration of Hoosier Women Artists site. Submit your artwork and become a part of Indiana's women's rich history!
-------------------------------
Friday Facts
Editorial Team:
Katharine Springer
State Data Center Coordinator
Elisabeth O'Donnell
Federal Documents Librarian
&
Kim Brown-Harden
State Documents Coordinator
-------------------------------------
Join the FDLP-IN
listserv for the latest government info
EPA Offers Tips for Wood-burning Appliance Safety
The storms that swept through the country this week took out a lot of power lines. In preparation for this, many people bought generators or stocked up on firewood so they could use fireplaces or wood-burning stoves for heat. While firewood can be a great source of heat (and we all know it smells good!), the EPA wants to be sure that citizens are burning the right types of wood under the right circumstances. That's why they've created their Burn Wise website. Burn Wise seeks to educate people on what wood to burn and how to burn it in order to protect your health, your home and the environment. Their website is full of great tips. For example, make sure that the wood you burn is dry – this produces less smoke and burns more cleanly. You should also make sure that your chimney is clear of creosote and that your wood-burning appliance is installed and maintained properly. There are also wood-burning stoves that are EPA approved. If you're in the market for a new one, make sure to check for EPA labeling on it. The Federal Government isn't the only one with good information; be sure to also check out IDEM's Clean Air Indiana homepage. this is full of clean air tips as well as information about where to go to report a problem.
Census to Soon Release Preliminary Data for Indiana
The U.S. Census Bureau released its first wave of 2010 Census data Thursday to the first four states to receive data for legislative redistricting – Louisiana, Mississippi, New Jersey and Virginia. Each week, the Census Bureau will announce one week ahead of time which states will be receiving their data. Indiana will be in the next group of four states to receive its numbers, along with Arkansas, Iowa and Maryland. Here is Wednesday's media advisory from the Census Bureau's online Newsroom, posted after the 2:00 p.m. media briefing with Census Bureau Director Robert Groves. State leaders will receive the Indiana redistricting data sometime next week. On the following day, the Census Bureau will verify that Indiana has received the data and issue a press release. Within 24 hours after this, Indiana data will be available on American FactFinder. An explanation of the process is available at Census 2010 - Redistricting Data, First Look at Local 2010 Census Results, one of the Census 2010 press kits.
Earlier on Monday, the Census Bureau's Redistricting Data Office held a webinar specifically about the new local census data. The public can view presentation slides here, made available through the press kit link above. On the fourth slide, you can see that based on the census, Indiana had no change in its number of U.S. Representatives. This first phase of data is only a small portion of the 2010 Census data that will be released during the coming year and beyond. As more data is released, more information on Indiana will become available on the new version of American FactFinder and through the Stats Indiana and Hoosiers by the Numbers websites. Here is an interactive timeline for Operational Milestones during the 2010 Census and a descriptive timetable from the Population Reference Bureau.
Data available next week will include the following:
The basic count of all people for certain geographic areas in Indiana - State -> County -> School district -> Voting district -> City or Place -> Census tract level -> Census block level

The basic count, separated by Race and Hispanic/Latino origin.

The basic count, separated by voting age

The basic count of all housing units.
Information on Redistricting Data and its release to the public is available on the Census Bureau's official Redistricting Data website. The Indiana State Data Center, the Indiana Business Research Center, and Indiana's statewide network of affiliates are here to help with any questions you and your patrons may have. You can contact our Data Center Desk phone at 317-232-3733 or ask a question via our Ask-A-Librarian service on the Indiana State Library website.
Help Raise Heart Defect Awareness Next Week
<![if !vml]>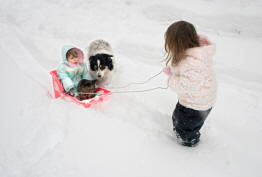 <![endif]>The week of February 7-14 marks Congenital Heart Defect Awareness Week. According to Medline Plus, a congenital heart defect (or CHD) is when there is a problem with the heart's structure that is present at birth. These are the most common type of major birth defects. Heart defects can affect the walls or valves of the heart or the arteries and veins in the area. They often disrupt the normal flow of blood and can cause it to go in the wrong direction, go to the wrong place, slow down or even be blocked completely. CHD Awareness Week is sponsored by the Congenital Hearth Information Network. The goal is to create awareness in the public through individuals, local support groups, national and local organizations and cardiology centers. The Network has tips on how you can volunteer to help with this effort, including starting your own proclamation signing and using existing social networking to promote it.