This Week's Facts:
Document of the Month: Geological Survey of Indiana - Annual Report
"The law passed at the Forty-sixth Regular General Assembly of the State of Indiana creating the office of State Geologist places him at the head of a Geological and Scientific Department, to act in connection with and under the control and management of the Indiana State Board of Agriculture, for the purpose of collecting information designed to promote the interests of agriculture, arts, manufactures, and mining." This statement was taken from the Annual report of 1869. The law established the office of the State Geologist and established an analytical lab in Indianapolis to evaluate various ores and substances that may have been useful to the State. These annual reports contain analyses of the various minerals found throughout the State, organized by county. The Annual reports also provide descriptive Geographies of various counties, including what minerals might be found there. Finally, they offer invaluable information such as owners of coal lands, railroads and more. Later editions contain detailed maps of oil and gas well and railroad lines. The reports were published from 1859 through 1916 and can be found in the State Library's Indiana collection at ISLI 557 I.
-------------------------------
Friday Facts Editorial Team:
Katharine Springer
State Data Center Coordinator
Elisabeth O'Donnell
Federal Documents Librarian
&
Kim Brown-Harden
State Documents Coordinator
-------------------------------------
Join the FDLP-IN listserv for the latest government info
Remembering Operation Desert Storm Two Decades Later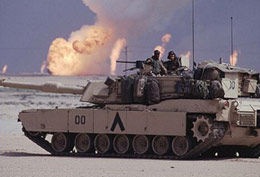 January 17th marked the twentieth anniversary of beginning of Operation Desert Storm, also known as the First Gulf War. While this was the start of Desert Storm, Operation Desert Shield had been going on since the previous August, following the Iraqi invasion of Kuwait. Desert Storm began with the air war phase, starting at 3 AM on January 17, 1991. The mission of the war was to get Iraq out of Kuwait. This was accomplished in just over a month; on February 28, a cessation of hostilities was declared.
For a more detailed timeline, be sure to check out this site from the Department of Defense. The Archives Library Information Center at the National Archives also has information on the war. There are links to maps, research on Gulf War veterans' illnesses and resources for Gulf War veterans. Finally, for a personal perspective, be sure to read the entry from VAntage Point, a blog by the Department of Veterans Affairs, on Desert Storm. It details one man's experience of the war and invites others to share their memories.
Online Resource Advises on Replacing Vital Records
Have your patrons lost important personal documents – a drivers' license? A marriage or birth certificate? A permanent resident card? These things can go missing quickly due to a lost or stolen wallet, a car accident or inconsistent record-keeping habits. We all experience this kind of loss from time to time. The USA.gov website has a nearly complete list of how we might go about replacing vital documents. It includes tips about document restoration after fires and floods; it also provides a link to the IRS.gov webpage that enables taxpayers to order copies or transcripts of tax returns. If you've lost your passport, never fear! Report it and replace it at Travel.State.Gov. Don't worry – most documents can be replaced with adequate ID information.
January is Month to Help Raise Birth Defects Awareness
January is Birth Defects Prevention Month. According to the CDC, one out of every thirty-three births in the US is affected by birth defects each year. The CDC states that the most common defects affect the heart, the spine (also known as "neural tube defects) and the mouth. A cleft lip or palate is an example. Birth defects can be caused by any number of things – consumption of drugs or alcohol while pregnant, infections and even genetics. However, sometimes the reason behind a defect is not known. The CDC has a great website entitled basic facts about birth defects that provides a good general overview. For more in-depth information, be sure to check out one of their articles about specific issues and causes.
Census to Talk New Local Data in Upcoming Webinar
Beginning in February and continuing through March, the Census Bureau will release limited local data – only that which will be used in re-drawing state legislative and federal congressional district boundaries. The Census Bureau will hold a webinar Jan. 24 at 1:00 p.m. for the public that will include what geographies will be available and how to access these numbers. Please see Tuesday's press release for information on accessing the webinar via the phone and internet. Log in early so that you can load the web meeting software onto your computer.