Wabash County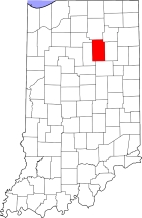 Wabash County was created in 1832 from Cass and Grant Counties. It is located in north central Indiana. The county seat is Wabash.
A courthouse fire in 1870 destroyed all records except those held by the treasurer, auditor, recorder, and clerk.
Selected Holdings at the Indiana State Library
The following list is not complete. Further resources may be found by searching the Indiana State Library online catalog.
Print Materials from the Genealogy Division
Marriage Records
Marriage Records, 1882-1899
ISLG 977.201 W112ma

Marriages, 1835-1882
ISLG 977.201 W112m [2 vols.]
Vital Records
Birth Records, 1928-1940
ISLG 977.201 W112wa

Death Records, 1899-1905, 1939-1949
ISLG 977.201 W112t v. 1-2
Other Library Materials
Online Resources
Land Records
Marriage Records
Locating Original Records
For Further Research
GEN JD 1-5-2022