Union County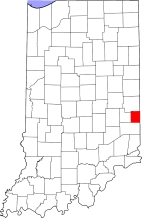 Union County was created in 1821 from Fayette, Franklin, and Wayne Counties. It is located in east central Indiana on the Ohio border. The county seat is Liberty.
The courthouse experienced a fire in 1903 that resulted in water damage to some records.
Selected Holdings at the Indiana State Library
The following list is not complete. Further resources may be found by searching the Indiana State Library online catalog.
Print Materials from the Genealogy Division
Court Records
Court Records, 1821-1845
ISLG 977.201 U58hm
Immigration Records
Naturalization Records, 1853-1941
ISLG 977.201 U58sk
Land Records
Early Landowners
ISLG 977.201 U58ho

First Land Entry Book
ISLG 977.201 U58de
Marriage Records
Marriages, 1860-1918
ISLG 977.201 U58s
Vital Records
Death Records Index, 1882-1907, 1916-1917
ISLG 977.201 T596hd, hde, hdg
Wills and Probates
Marriages, 1860-1918
ISLG 977.201 U58s
Other Library Materials
City Directories (There are no Union County directories in our collection)
Online Resources
Marriage Records
Military
Locating Original Records
For Further Research
GEN SP 2-9-2022