Noble County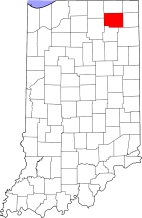 Noble County was created in 1835 from Allen, Elkhart, and Lagrange Counties. It is located in northeastern Indiana. The county seat is Albion.
The Noble County courthouse burned in 1843 with no loss of records and in 1859, resulting in the loss of all records in the clerk's office except deeds filed after 1836.
Selected Holdings at the Indiana State Library
The following list is not complete. Further resources may be found by searching the Indiana State Library online catalog.
Print Materials from the Genealogy Division
Immigration
Naturalization Records, 1859-1933
ISLG 977.201 N747r
Land Records
1849 Noble County Land Owners
ISLG 977.201 N747cL
Marriage Records
Marriage Records, 1830-1930
ISLG 977.201 N747sh v. 1

Marriage Records, 1859-1875
ISLG 977.201 N747dm

Marriage Records, 1859-1899
ISLG 977.201 N747sL

Marriage Records, 1900-1925
ISLG 977.201 N747g
Wills and Probates
Will Abstracts, 1859-1894
ISLG 977.201 N747s
Other Library Materials
Online Resources
Cemeteries and Obituaries
Military
Locating Original Records
For Further Research
GEN SF 11-22-2021