Clay County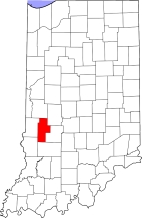 Clay County was created in 1825 from Owen, Putnam, Sullivan, and Vigo Counties. It is located in south central Indiana. The county seat is Brazil.
The courthouse experienced a fire in 1851 which resulted in a loss of all records created prior to that date except records from the Recorder's office.
Selected Holdings at the Indiana State Library
The following list is not complete. Further resources may be found by searching the Indiana State Library online catalog.
Print Materials from the Genealogy Division
Marriage Records
Marriage Records, 1851-1869
ISLG 977.201 C622se

WPA Index to Marriage Records, 1860-1920
ISLG 977.201 C622u v. 4-6

WPA Index to Supplemental Marriage Records, 1880-1920
ISLG 977.201 C622u v. 7
Vital Records
WPA Index to Birth Records, 1881-1920
ISLG 977.201 C622u v. 1-2

WPA Index to Death Records, 1882-1920
ISLG 977.201 C622u v. 3
Wills and Probates
Will Abstracts, 1848-1867
ISLG 977.201 C622f
Other Library Materials
Online Resources
Marriage Records
Military
Locating Original Records
For Further Research
GEN JD 10-29-2019